Articles from 'Booking Tips'
We want you to #BEYOURSELF with your life….and YOUR HAIR! Book with us by Selecting a Stylist Profile HERE.
Who has time to spend over 30 min on their hair? Not many people! We're always running off to work and sometimes to meet friends afterwards, which makes hours-long glam impossible! Here are some quick tips for getting a 1-2-3  step style!
For men, the types of cuts pictured that are longer on top and extremely faded down to skin are very popular! But even if you have a medium length haircut, there are 2 go-to products you can use quickly for n easy yet refined look.
-If you want texture, hold and/or a matte finish: use the beeswax based Night Rider by Kevin Murphy. Its great for creating hold on medium to thicker hair types or densities.
-If you want light hold and a soft sheen finish: use the featherweight Undressed by Kevin Murphy. Its great for finer hair types and creates a shine finish that mimics slight wetness.
If you have short to a longer pixie cut, you can play with different finishes and texture for variety.
–MoroccanOil's Texture Paste and Kevin Murphy's Bedroom.Hair are both great products for adding definition, texture and medium hold. It can be very helpful for holding a swoop bang like in the picture to the right.
-For a sleeker look, try Molding Cream by MoroccanOil. The argan oil in it is conditioning and helps create some of the slicked back looks that are so popular on the runways.
If you have medium to long length hair, try creating a soft beachy texture.
-Try Kevin Murphy Hair Resort Spray (fine hair) or Hair Resort gel (medium to thick hair) to your dry hair from mid-shafts to ends. These products create hold with minimal effort.
-Blow dry into damp hair using a slow speed, medium heat dryer. Use a curling iron and wind the hair around the curling iron (2″-3″ diameter) in alternating directions, taking 2- 3 rotations.  This creates movement and slight volume. Or, curl all pieces away from the face to create soft waves.  Make sure not to curl the last 1-2″ of the ends for a tousled look, and do not use the clip on the curling iron.
Once the hair is curled and cooled completely (17-20 minutes ideally), use your hands to stretch the curl out a bit by grabbing big sections and smoothing your hands down the curls. This will soften them up and make them look more natural. To finish, use Session Spray by Kevin Murphy lightly, from  12″ away from your hair to hold the curl and protect it from humidity.
Once you have done this a few times, you will become quick like QUICKSILVER! Going from day into night should be simple and almost effortless…
No one's got time for being a Diva 'bout their hair! You can also book a quick styling session with one of our independent stylists online! Our profiles are on emersonsalon.com so you can make a choice and book your appointment through our booking links provided.
 We are a community of independent hair designers. 
This means that YOU have a unique opportunity to learn about each professional through their profile before booking an appointment so you can schedule DIRECTLY with your chosen stylist!
New to booking with us?  Here's the Lowdown…
Our Independent Hair Professionals include Stylists and Barbers.
Each professional who runs their business inside Emerson Salon has a profile on this website that has contact information, online booking link, bio and more.
To see their profiles, click HERE>>
D'Arcy, Chelsea, Lancer,  and Michael are Hair Designers: They do haircuts, haircolor, & balayage for everyone.
Prices are established by and are individual to each stylist. Prices may also vary by the amount of and type of work involved and your hair length/density/history.
Co-Owners of Emerson Salon: Lancer Forney-McMahon & D'Arcy Harrison (of B. Please LLC). Feel free to let us know if you have any additional questions or concerns at b.please.llc@gmail.com
Now is the time of year in Seattle where the rainy days arrive less frequently, the leaves come out and people smile a little brighter!
With the likelihood of hairstyles being ruined by precipitation decreasing- its time to think about fun haircuts and hairstyles that are simple but also,  on trend.
 Longer Hair 
Above are a set of medium to long length haircuts and hairstyles from some of the runways-gone are the heavily layered hairstyles and razored textures and gaining popularity are the "casually done" looks. The basic haircut to most of these styles is hair length no more than the middle or top of the shoulder blades with soft, blended texture on the ends to emphasize movement. Framing the face by the cheekbones is out and the longer contouring of the hair by the collarbone is in. These hairstyles mix and match 4 types of styles: 1) wet, slick look 2) controlled volume 3) soft waves and 4) messy braids. Middle and deep parts are still heavily used with a little root lift to remove flatness. Looking to recreate these style?
Recommended Tools: A large wave hot iron, a flat iron, a fine toothed comb, a wide toothed comb, and bobby pins.
Recommended Products: Kevin Murphy Young.Again with immortelle oil for shine and moisture. Kevin Murphy Doo.Over to help emphasize messy braids in finer hair with backcombing. MoroccanOil Strong Hold Hairspray for style hold.
Medium Length
Bobs and "lobs" are also very chic and are quicker and easier to style during the hotter months. Again, heavily layered shapes are out and blended, shattered texture on the ends of the general shapes is showing up on students, hipsters and mature professionals alike. Some chose to leave the front long and some opt for a rounded, Brigitte Bardot style fringe that creates blended wisps by the face.
Recommended Tools:  A tapered, clipless curling iron and a wide toothed comb.
Recommended Products:  Kevin Murphy Body Builder and/or MoroccanOil Beach Wave Mousse.
For natural, textured hair allowing your wave and curl to be emphasized with height a high ponytail can be made into a fun, casual updo in seconds. Gone are the days of stick straight hair with a flatiron! Show off your true self by emphasizing how your hair WANTS to be.
Recommended Tools: Wide toothed comb, bobby pins, boar bristle brush and a large, fabric covered and strong elastic.
Recommended Products: MoroccanOil Original Treatment, Kevin Murphy Killer Curls, and Kevin Murphy Session Spray.
Short Hair- Feminine
This year, many female identifying individuals are daring to go short! Both versions emphasize fullness and movement and emphasize bone structure and elongate and enhance the perception of the neck and décolleté. It's not just flat short Mia Farrow pixie cuts anymore!
Recommended Tools: Blow dryer and diffuser.
Recommended Products: Kevin Murphy Hair Resort and MoroccanOil Root Boost.
Short Hair – Masculine
For male identifying peeps, the spring/summer looks are trending towards more classic shapes and styling.  Deep side parts and combed in looks are defining everyday and formal looks for the gentlemen.
Recommended Tools: Fine toothed comb.
Recommended Products: Kevin Murphy Super.Goo (strong hold) or Free.Hold (mild, grooming creme.)
For a more modern look, quiffs are being paired with tapered layers on the side or an extreme bald fade with clippers.
Recommended Tools: Fine Toothed Comb.
Recommended Products: Kevin Murphy Night.Rider (matte wax texturizer- strong hold) or Reuzel Red pomade (high sheen, heavy hold).
Looking to freshen up and revamp your look for the new season?
Book a haircut appointment with one of our fun, exciting professionals by selecting one from their profile and booking with them online 24-48 hrs in advance!
Go to Emersonsalon.com and Select the "Stylists" circle.
HURRY before all the good spots are taken because right now EVERYONE is looking to get their hair done!
Friday, October 28th, 2016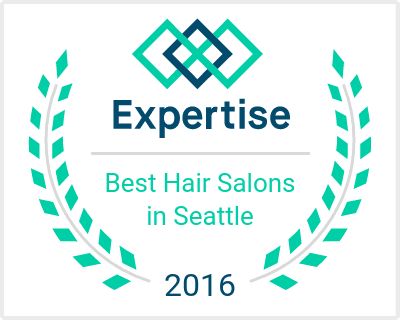 Emerson Salon, a Community of Independent Hair Designers, just received an important distinction of being named by Expertise as ONE OF THE TOP 20 SALONS in SEATTLE !!!
Their selection criteria uses research in the following areas:
Reputation:A history of delighted customers and outstanding service.
Credibility: Building customer confidence with licensing, accreditations, and awards.
Experience: Masters of their craft, based on years of practical experience and education.
Professionalism: Providing service with honesty, reliability, and respect.Providing service with
honesty, reliability, and respect.
Availability: Consistently approachable and responsive, so customers never feel ignored.
At Emerson Salon, we pride ourselves on providing high quality services from trained professionals who are passionate about running their own careers and clientele independently. To receive this honor puts attention to our daily efforts towards making  YOU feel confident with your hair…and therefore, yourself!
Book online TODAY with one of our Stylists or Barbers by choosing your preferred professional's profile, and booking ONLINE through www.emersonsalon.com
SEE YOU AT EMERSON SALON!
Thursday, September 29th, 2016
   In the cosmetology industry, it is important to stay knowledgeable on new technologies in hair color and hair products because innovations in ingredients and trends are ever-changing. To that end, Emerson Salon colorists have started to encounter more and more people with sensitivities and allergies to ammonia and PPD and have wanted to broach this issue for our clienteles.
What is PPD? Phenylenediamine (or PPD) is an organic compound used in hair dyes, as well as in rubber chemicals, textile dyes and pigments. Manufacturers like it because it has a low relative toxicity level, high temperature stability, and chemical and electrical resistance. In other words, it helps the new color stay on your hair despite numerous washings, dryings, and stylings. (from http://www.annmariegianni.com/)
Why is PPD "bad?" The National Institute for Occupational Safety and Health (NIOSH) notes the following:
-PPD is potentially capable of causing multiple toxic effects following skin contact.
-Data from studies of both humans and animals are sufficient to demonstrate that PPD has potent skin-sensitizing properties.
-Several cases of contact dermatitis have been reported following occupational exposure to dyes containing the chemical.
-Studies have also identified the chemical as the third most common ingredient, after fragrances and preservatives, that can cause contact dermatitis from cosmetics (mainly skin-care products, hair preparations and colorants, and facial makeup products).
We listened and have taken on the NEW color line Color.Me Kevin Murphy that is PPD FREE, Ammonia Free, Cruelty free and the ONLY PETA (People for the Ethical Treatment of Animals) approved hair color line. We are so excited! If you look at the image to the left- you will see a color that prematurely faded on resistant grey hair with ammonia based permanent hair color. Then, observe the after as well as the ZERO fadeage after 3 weeks. WOW! What a difference! Check out more before and afters below!
Here is some more information on its features+ ingredients:
Color. Me is a performance driven line which means it is highly predictable and has minimal fade-age.
It has a wonderful rose tea fragrance and barely any chemical smell at all because it is an MEA ammonia derivative and not actual ammonia.
It causes next to no skin irritation and does not stain like ammonia based hair color.
 It contains: shea butter, pomengranate, aloe vera, grapeseed oil, panthenol, almond oil (those with allergies to nuts may be sensitive,) coconut oil and most importantly, HONEY!
The haircolor will never spoil or expire because of the sugars contained in the honey base.
The line is designed for custom formulation and can be made semi, demi or permanent based on the artistic choices of the colorist as well as the desires of the client.
 Has 3 types of bleaches: cream/oil based, ammonia based and non-ammonia lighteners give the professional the control to determine how much damage and lift is incurred on the hair.
  Want to have Color. Me by Kevin Murphy haircolor for your next all over color or balayage?
Book with D'Arcy, Lancer, or Chelsea at emersonsalon.com to expedrience it for yourself! Read the rest of this entry
Tuesday, November 3rd, 2015
Men's hair needs to be versatile, as well as grow out attractively. Lately we have been seeing trends in short, medium and longer hairstyles for men. Here we detail the ways to ask for these haircut styles, and how long they generally can hold up for. Communicating your desires effectively with your stylist  is key to receiving not just a satisfactory haircut…but an excellent one!
MODERN IVY LEAGUE 
This is a very stylized haircut for men- but when it is worn with confidence, it can get many a look on the street. The sides and nape are clippered down to 1/8″, and blended into a disconnected top.  The barber or stylist needs to make sure the hair from the crown to the occipital bone is kept long, and to take time blending into the disconnection. Also, in order to emphasize the part line, it may be necessary to buzz the line to the skin. The top is left longer, and might need to be layered into the shorter blended hair around the temple or parietal area. Clipper over comb and shear work is essential to achieving a custom blend for the haircut and hairline. We love the product Night Rider by Kevin Murphy to style the pompadour look. This is a firm hold product, which will help to lay down the part. This look can last between 3-6 weeks.
 THE MOVIE STAR 
This is a great short to medium length look.  It utilizes clippers at the edges and ears, as well as shear over comb and layering work to taper the shorter parts into the top. Some stylists may add texture on top with shears, a razor or texturizing shears; depending on your hair type. If your hair is prone to frizz, request manual texturizing/carving/incising, which is with shears, to minimize unruly hair. A great product to use for this is Undressed by Kevin Murphy. It has light hold and a mild sheen to it, and will help emphasize the texture. This look can last between 4-7 weeks.
 THE WAVE
This is a great short into long look. Don't worry- your hair doesn't need to be wavy or curly to achieve it. We're showing you that this style looks good on textured hair as well! Clippers are used to sharpen the very edges only, and shears are used to remove bulk and length from the sides. The top is longer yet cut to emphasize movement and texture. We like to use Easy Rider by Kevin Murphy, to moisturize the hair as well as control frizzies and to take too-much fullness. This look can last 5-8 weeks.
Need a new 'do? Our independently run hair designers all work with men's and shorter hair!
BOOK ONLINE WITH YOUR PREFERRED STYLIST 24hrs- 48 hrs in advance, at
Tuesday, September 15th, 2015
Ok, ok!
………………WE CONFESS!!!………….
Emerson Salon is a salon without front desk receptionists!
(CLUTCH THE PEARLS)
 It's OK! WE PROMISE! It totally is!
Salons are NOT all run the same, times are changing with new technologies and having receptionists is NOT the only way to provide quality service in a hair salon!
Having receptionists is an expensive luxury to have when  stylists can do most of the essential business functions themselves with a mobile device app,
laptop or smartphone for scheduling and payment. 
Co-Owners of Emerson Salon (Lancer Forney and D'Arcy Harrison) chose not to have receptionists so each individual self employed stylist inside Emerson Salon can maximize their profitability and run their hair chair as they see fit (beyond general safety, sanitation, licensur

e, leasure and insurance obligations. ) They are trained, seasoned, screened professionals with the expertise to execute fantastic hair transformations while concurrently doing their own business tasks.
Emerson Salon does offer easy online 24 hrs a day booking with your preferred stylist. Your stylist is in absolute control of their appointment calendar, its set up and communications.
PLEASE MAKE ONLINE APPOINTMENTS 12-24 HOURS IN ADVANCE.
Why is it better to book ahead?
Well, we are happy to share an inside scoop on our community of independent hair designers.  🙂
Because all our stylists have ultimate control over their calendars and business and its very important to give them the space to customize their day. Doing hair is ultimately a business- one that is fun, exciting and ever changing with new trends and techniques but also requiring of time, care and expertise.
We cannot always guarantee same day availability.
If it is possible- we will do our best to help make a same day appointment happen but
that is entirely up to the discretion of the independent hair designer you wish to work with.
We understand life runs quickly….. but in the land of Hair-
Planning, Preparation and Patience are KEY for you to receive "Happy hair!"
We appreciate our WONDERFUL clients and aim to make sure every individual feels taken care of and listened to when they are with us inside Emerson Salon.
Come to us "For Style That Works"
by booking with
    Daily, a hairstylist may come in to contact with between 3
and 8 clients depending on the types of services rendered,
schedule and hours worked. Multiply that times 4-5 days a week 4 weeks a month and so on-
That is a lot of people!  When you think about it-
being a hairstylist does not just require technical skill in haircutting, hair color formulation or techniques. It incorporates many facets and factors to becoming successful as a hairstylist.
The primary focus of teaching hairstylists in cosmetology school is to learn safety and sanitation and to pass a State licensing board exam. Unfortunately, it is not always the place where the fine art and science of psychology is taught. Having a working understanding of how humans behave and think is key to your stylist executing a service that makes you happy. Its always best to put a little research into your new stylist to increase the likelihood of clicking with them. You don't have to be best friends but relating well to one other is HIGHLY important.
PSYCHOLOGY: is the study of mind and behavior. It is an academic discipline and an applied science which seeks to understand individuals and groups by establishing general principles and researching specific cases. (Wikipedia)
Most stylists rely on instinct, their learned craft, their personality and the client when executing services. However, it is generally known that this takes time, experience and some trial and error to discover what is successful. That could take years. It is NOT easy. It isn't a black and white process. You cannot memorize or robotically learn the subtle nuances of  human behavior. However, with focus and dedication a stylist's unique brand of learned awareness and understanding can be cultivated.
EMPATHY: is the capacity to understand or feel what another person is experiencing from within the other person's frame of reference (Wikipedia)
The #1 skill that cannot be taught to a hair stylist is the ability to have empathy for the client and their desires and needs. The second a stylist isn't on the same page with their hair client that is when mistakes  can happen through miscommunication, frustration and misunderstanding.
If you feel like your stylist doesn't care- why give them your $?  Its the old expression,"Put yourself in their shoes." It seems easy but it's harder than it seems- especially if the other person is the yin to your yang!  How do you know if a stylist cares about you and what you say? Simple: When you feel like they listened to you but also processed and heard what you said and WHY. This can be done by reflecting or repeating what you said back to you.
EFFECTIVE LISTENING includes maintaining eye contact, being relaxed and attentive, keeping an open mind, try to picture what the speaker is saying, not interrupting or imposing a "fix," asking clarifying questions. (forbes.com)
The next time you try out a new stylist- feel free to incorporate some of these items like a checklist.
Being in someone's hair chair is a 2 way street and if you feel like your relationship is one-sided, the stylist isn't executing what you ask for, isn't listening and seems to be bored or annoyed with taking care of clients- it may be time to move on to someone who better suits your needs and personality.
Want to experiment with a new hair professional in Seattle who fits with your special needs? 
Peruse our stylist profiles and book with one automatically at Emersonsalon.com!
All of our stylists are independently run and have years of experience in the field.
Where we believe it is essential to be
"For Style That Works!"
Thursday, March 26th, 2015
A trim is NOT just a trim when it comes to price:

   "Price isn't based on how much is taken off, but how much is left on." Unless you are getting a brief neck or bang trim that is a quick 5 minute touch up- there is no cost difference related to how much hair is being cut off. Stylists generally price their services based on the amount of shampoo, conditioner, styling product and time is necessary to execute a full service.  Some stylists spend  years learning advanced techniques, take time outside of work expanding their skills, marketing themselves and staying up on current trends and techniques. So understand that pricing is not always about your head of hair. It is possible that a stylist will knock off a little $ if you come in with your hair clean and freshly washed but that is always up to the discretion of the stylist.
Research your new stylist and make an appointment MORE THAN 48 hrs in ADVANCE:   It is generally a good idea to try and find out a specific stylists' specialties, schedule, pricing, years of experience and reviews before booking. This helps to align you with someone who has the best possible scenario to make you happy. Also, if you are looking for an extensive service like a smoothing treatment or haircolor it is best to schedule ahead of time. These services require 2 hours or more to execute and salons may not be able to accommodate you if you walk in wanting the service on the spot.
Evenings and Saturdays are the highest demand time slots.  If you already know you are only able to schedule at specific times- make sure to request the time far enough in advance. Its first come first serve when it comes to slotting in clients on a schedule. Don't Snooze So You Don't Lose that Prime Appointment Slot! It never hurts to book well in advance.
Take a Picture of that Last Cut That You Loved:  Stylists see many, many different people in their chair. Its easy to write down a color formula but trying to remember the haircut we gave you the time before last can be challenging. So, keep a record of your favorite haircuts by us on your phone! We love recreating something that worked well for you.
A Stylist's #1 Goal is to Make You Happy!  Stylists are the ultimate people-pleasers. When you are unhappy, we sometimes beat ourselves up over it for weeks. Most hair professionals will not "mess up on purpose," as that is no way to build a career. Sometimes, stuff happens and we will move heaven and earth to make sure you are content. We form relationships with clients and care deeply about your satisfaction and well being. So, listen to us when we tell you your hair will possibly break off from bleach damage. Take the product recommendations that will best assist your hair's health and color. Or, listen to your stylist about how that haircolor would be best if it was slightly adjusted for your coloring. We trained extensively to understand how colors and cuts look on different face shapes, hair types and skin tones and can guide you towards something that ultimately works best for you, your style and budget.
Tipping should be between 15-25% of the service:  Your hair professional makes you look and feel fabulous! So reward them with a gratuity so they know you appreciate them. Conducting the service itself has cost factors involved: Shampoo, Conditioner, Styling Product, and/or Bleach/Haircolor and most stylists have to provide their own health insurance as well. Not all of the $ from the service goes into the stylist's pocket. Also, consider the toll on the stylist it is to be on their feet all day. Make sure they can make a living wage from hairstyling by making sure they know you appreciate them beyond a compliment on their work. We aren't in it exclusively for the money- we are passionate about hair but being able to make rent in a pricey urban area sure is nice!
If you are beyond 15 minutes late, it is our right to alter or to reschedule your appointment:  Successful stylists manage their time like organized officianados. Clients are booked to the minute and if the time left is not sufficient to conduct the service the stylist may ask to reschedule or to eliminate one of the services you booked for that time (do the cut instead of cut and color.) You don't want the stylist to rush your service and risk making you unhappy in the process. In addition, asking your stylist to be late with their next client could cause them to lose said client and mess up the entire day's schedule of services.
Avoid cancelling last minute at ALL COSTS:  Most stylists don't charge a cancellation fee because its difficult to secure credit card numbers and we understand that stuff happens. However, extreme circumstances  (you lost your day care, someone passed, you got in a car accident, etc) are the times acceptable to cancel day of or right before an appointment. We held the slot for you so we could make $ – this is our career and we have bills to pay too! Someone else could have been slotted in- many people ask to be notified in case of a cancellation. You changing your mind about that haircut service because it's nice out is considered rude and disrespectful. Would you like it if we up and cancelled on you last minute? Probably not!
Unless it is an advertised kids' salon, a child's haircut can cost as much as an adult:  Our time is valuable and if a haircut takes 45 minutes-1 hour it is going to be charged accordingly. Most adult salons won't do haircuts of children under the age of 7 as they do not sit still long enough for an appropriate haircut.  You can always ask the individual stylist what they are comfortable with and how much they feel the haircut is worth. But ultimately, if they aren't comfortable cutting your child's hair that is their prerogative.
We are not a babysitter or dog wrangler!  If you must bring your small child (under the ae of 12) or dog to the salon, pre-warn your stylist. They may opt to reschedule your service if you cannot guarantee the child to remain respectful and quiet in a place of business. Remember, you are also most likely not the only one receiving a service. Its up to you to understand that a salon is where some people go to escape and relax when they get their hair done and might not want a whining dog or babbling toddler interrupting their service. Also, some stylists or clients are allergic to some types of dogs or have dog anxieties.
A stylist's career is dependent on you and your patronage but a stylist's happiness with you as a client is directly related to how you respect and behave towards them.
LOVE your stylist- that love will be returned with a service that makes you look and FEEL amazing with yourself and your hair!