Articles from 'Emerson Salon'
Friday, October 28th, 2016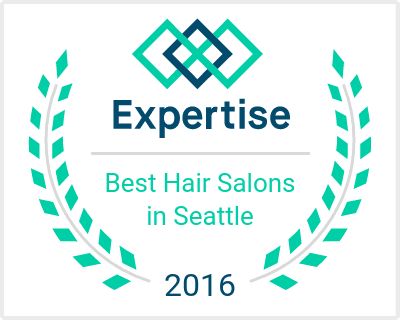 Emerson Salon, a Community of Independent Hair Designers, just received an important distinction of being named by Expertise as ONE OF THE TOP 20 SALONS in SEATTLE !!!
Their selection criteria uses research in the following areas:
Reputation:A history of delighted customers and outstanding service.
Credibility: Building customer confidence with licensing, accreditations, and awards.
Experience: Masters of their craft, based on years of practical experience and education.
Professionalism: Providing service with honesty, reliability, and respect.Providing service with
honesty, reliability, and respect.
Availability: Consistently approachable and responsive, so customers never feel ignored.
At Emerson Salon, we pride ourselves on providing high quality services from trained professionals who are passionate about running their own careers and clientele independently. To receive this honor puts attention to our daily efforts towards making  YOU feel confident with your hair…and therefore, yourself!
Book online TODAY with one of our Stylists or Barbers by choosing your preferred professional's profile, and booking ONLINE through www.emersonsalon.com
SEE YOU AT EMERSON SALON!
Thursday, September 29th, 2016
Tweet
   In the cosmetology industry, it is important to stay knowledgeable on new technologies in hair color and hair products because innovations in ingredients and trends are ever-changing. To that end, Emerson Salon colorists have started to encounter more and more people with sensitivities and allergies to ammonia and PPD and have wanted to broach this issue for our clienteles.
What is PPD? Phenylenediamine (or PPD) is an organic compound used in hair dyes, as well as in rubber chemicals, textile dyes and pigments. Manufacturers like it because it has a low relative toxicity level, high temperature stability, and chemical and electrical resistance. In other words, it helps the new color stay on your hair despite numerous washings, dryings, and stylings. (from http://www.annmariegianni.com/)
Why is PPD "bad?" The National Institute for Occupational Safety and Health (NIOSH) notes the following:
-PPD is potentially capable of causing multiple toxic effects following skin contact.
-Data from studies of both humans and animals are sufficient to demonstrate that PPD has potent skin-sensitizing properties.
-Several cases of contact dermatitis have been reported following occupational exposure to dyes containing the chemical.
-Studies have also identified the chemical as the third most common ingredient, after fragrances and preservatives, that can cause contact dermatitis from cosmetics (mainly skin-care products, hair preparations and colorants, and facial makeup products).
We listened and have taken on the NEW color line Color.Me Kevin Murphy that is PPD FREE, Ammonia Free, Cruelty free and the ONLY PETA (People for the Ethical Treatment of Animals) approved hair color line. We are so excited! If you look at the image to the left- you will see a color that prematurely faded on resistant grey hair with ammonia based permanent hair color. Then, observe the after as well as the ZERO fadeage after 3 weeks. WOW! What a difference! Check out more before and afters below!
Here is some more information on its features+ ingredients:
Color. Me is a performance driven line which means it is highly predictable and has minimal fade-age.
It has a wonderful rose tea fragrance and barely any chemical smell at all because it is an MEA ammonia derivative and not actual ammonia.
It causes next to no skin irritation and does not stain like ammonia based hair color.
 It contains: shea butter, pomengranate, aloe vera, grapeseed oil, panthenol, almond oil (those with allergies to nuts may be sensitive,) coconut oil and most importantly, HONEY!
The haircolor will never spoil or expire because of the sugars contained in the honey base.
The line is designed for custom formulation and can be made semi, demi or permanent based on the artistic choices of the colorist as well as the desires of the client.
 Has 3 types of bleaches: cream/oil based, ammonia based and non-ammonia lighteners give the professional the control to determine how much damage and lift is incurred on the hair.
  Want to have Color. Me by Kevin Murphy haircolor for your next all over color or balayage?
Book with Jason, D'Arcy, Lancer, or Esther on emersonsalon.com as they are loving the results as they continue to work with it and are delighted to try it on you! Read the rest of this entry
Wednesday, August 31st, 2016
What's it like doing hair on Capitol Hill? "It's fun, it's diverse, it's always crazy- it's always different…It's just this really dense part of Seattle that's full of every single kind of person you can imagine!"
Jason works upstairs alongside Larsen in what he and Larsen have deemed "The Barber Loft". Cosmetology licensed and Barber trained. Since 2005, Jason has worked and studied in barbershops from Seattle to Atlanta. Honing the fine art of Men's haircuts, beard maintenance and hot towel, straight razor shaves and gray blending.
As an independently run barber, Jason runs his own prices + calendar and works Wed thru Sat.
You can easily book online with Jason or contact him via text.
Thursday, August 25th, 2016
Mentor and former salon owner Matt Buchan recommended a Partners Retreat for co-owners D'Arcy and Lancer. The point was to "to cover whatever things you feel need to be covered, especially long term stuff that can easily get missed in the day to day grind."
What a great idea! Now how to execute? Having never attended a business retreat before, let alone organized one, there was much research to be done (Lancer's forte), and some negotiations to have happen beforehand.
We rented out a room at Impact Hub Seattle, because we wanted to stay local and limit our retreat time to 5 hours. We started out by examining the history and milestones of Emerson Salon. Lancer has been working in the 909 E Pike salon location since 2006- before it became Emerson Salon. D'Arcy came on board shortly afterward, in 2008. Much was shared and learned, and food was to be had! Lunch and snacks were catered in by Specialty's Seattle. The experience was great! We had so much food, and our luncheon arrived on time, with great packaging. It also included an activity- a word search, which D'Arcy finished first!
We then walked around Occidental Park and played foosball- a real treat for us. Usually our lunches occur between clients and we've got 20 minutes to eat, then get back to business.
After we finished all of our agenda items (including adding another one to the list), we needed some quiet time. 15 minutes to be exact, of silence, at the Waterfall Garden park in Pioneer Square. Ahhh, silence! Another luxury we don't often get in our line of business.
We finished our retreat early. Here are the outcomes:
We discussed our lease in the building, and we're happy to say that we'll be renewing our salon location lease for another 3 years.
We went over our Partnership Agreement- you know that document you draft up at the beginning of a business relationship and usually never look at again? Contracts do need tending to, if one uses them in one's business (which we do!)
We also mapped out the transferring of the retail and supplies from Hair Guy Lancer back into the salon. Lancer's been running the retail and supplies business along with his own service business since 2012, and co-owning and operating Emerson Salon with D'Arcy since 2014, and is happy to now have the opportunity to transfer these assets back into the salon business entity (and also have D'Arcy's assistance with these tasks.) When this has transacted, you will notice a business name

change

on your Square receipts!
You're all stuck with us for at least another 3 years!
Wednesday, July 13th, 2016
Larsen is a trained Barber with a sharp wit and a laid back demeanor and he is a joy to work around! He works upstairs in what we playfully call,"The Barber Loft" and has been doing hair on Capitol Hill for a number of years. As an independently run barber, Larsen runs his own prices + calendar and works Wed thru Sat.
He specializes in short haircuts & tight fades that range in price in his chair from $25-50 dependent on work involved.
You can easily book online with him at emersonsalon.com/stylist/larsen  or contact him via phone or email.
Wednesday, March 2nd, 2016
TweetWhen You Walk Down E. Pike St…… You Might Find Us….
…"That Purple Place on Capitol Hill" where the stylists are silly….but take your hair SERIOUSLY!
Book at www.emersonsalon.com
Come Back…. Againsies…..
Video by Larsen the Barber!
Wednesday, January 6th, 2016
Are you making changes for 2016? Well, we have some ideas to help create and maintain beautiful hair in the New Year for you!
Make a resolution to be smarter when using your heat tools: 
-Use heat tools that use ceramic or tourmaline plates that help maintain your cuticle layer with controls that allow you to adjust the temperature. An on or off switch shows you no indication as to what level of damage you may be doing to your hair. We recommend digital heat tools that show you specifically what temperature range you are in.
-Always use a thermal protectant. We hear from a lot of clients that they are curling or flat ironing without a barrier to heat damage. Doing this can cause holes in your outer hair structure and make it difficult for your hair to retain quality moisture  and haircolor in your hair. We recommend MoroccanOil's Original Treatment or Nourishing Oil By Loma. They are dry oils, are conditioning and will prevent high heat from burning your cuticle layer.
-Control the temperature for your hair type. There is no need to use over 350 degrees on fine, delicate hair. Thicker hair needs 400-450 degrees.
-If your hair is fine or chemically damaged DO NOT use the flatiron to curl your ends. It creates too much stress on the hair and will make it break 5x faster.
Dedicate yourself to regular hair trims, color refreshes, and deep conditioning.
-Hair trims are your best defense against split ends. Even if you are growing your hair out longer it is a good idea to keep the ends freshened up so the oldest hair is not prone to breakage. For short to medium hair schedule every 4-7 weeks. For medium to long hair schedule every 6-10 weeks.
-Does your color get dull and murky looking after about 6-8 weeks? Schedule a conditioning color refresh with your colorist. Some shades (like semi permanents, reds and pastels) fade quicker and need more maintenance to keep them looking shiny and saturated. If you recently received a bleach and tone it will be necessary to keep it toned regularly to battle brassiness or maintain tonal stability.
-You can schedule a deep conditioning treatment with a hair designer or you can do one at home. In salon treatments tend to last longer because some of them use heat to penetrate to the structure inside the hair. We recommend MoroccanOil's Restorative Hair Masque or Intense Hydrating Masque. These are easy to do at home once a week for dry or damaged hair in 5-15 minutes. Using moisture or moisture with protein will assist in keeping your hair's health and manageability. (Some stylists use a disulfide mending OLAPLEX in salon as a treatment. Inquire at Emerson Salon with D'Arcy  for this service.)
Make sure to listen to your hair professional's recommendations
on professional products for your hair type.
 -Stylists work with many, many heads of hair a day and know which products will work best for your hair type and styling regimen. So listen and learn!
-Products sold from a professional salon are the highest quality, do not contain extra water and are more concentrated than other store brands. Don't trust Amazon, Bartell's, CVS or Costco for your hair products. They could be expired, contain high levels of bacteria or be counterfeit.
-Your stylist makes the recommendations that will help you recreate the look done inside the salon. Reward them by giving them the sale and not an online outlet or store. Your stylist has your hair's health and style as a high priority in order for you to become or stay a returning customer.
-If a product doesn't work for you, ask if you can exchange the product for one that does. No sense in keeping a product that you do not like the smell or isn't optimal for you.
Your "Hair Resolutions" in 2016 can be upheld if you follow these easy steps. And remember- your hair is an investment! The more you put into your hair, the happier you will be with it!
Tuesday, November 17th, 2015
Tweet
Emerson Salon is growing, evolving and changing constantly- just like hair!
From a new chandelier to decor shifts  and now-
We have changes as to which stylists decide to lease and conduct their businesses inside of Emerson.
Chandra Chenvert has moved on from Emerson Salon. You may reach her at ph# (206) 713-4085
Jason Farmer (The Barber Jason) has RETURNED to Emerson Salon.
You can reach him via text message (206) 326-0894 for a men's cut or towel shave Wed thru Sat!
Or book online with Jason HERE.
Kyle Larsen (Known as Larsen) is now at Emerson Salon!
To book a men's cut appointment with Larsen,  you may reach him via text message at (206) 384-5508 Wed thru Sat!
Or book online with Larsen HERE.
We aim to empower independent hair designers at Emerson Salon and are so excited to round out our team with these exceptional craftsmen!
Find out more about our stylists through www.emersonsalon.com
Saturday, November 7th, 2015
Meet Emerson Salon's newest haircare line addition: Loma Haircare. Loma products work great, smell great, and are very economically priced and locally made (in Monroe, WA). Loma also prints their own bottles, blends their own products, and fills their own bottles, which makes the company "one of the last independently owned and operated brands in the professional beauty industry actually manufacturing 100% of its own products."
Loma believes in Renewable, Sustainable Beauty; containing naturally healing, organic ingredients and essential oil based fragrances that embrace this belief. "Loma pioneered and set the standard for the use of Certified Organic Aloe Vera Gel, the primary base for all Loma products."
Loma has been around since 1991, and the company used to have 2 lines: Pearatin and Loma. Hair Guy Lancer, Emerson Salon co-owner, had used Peratin in the past (2004-2006), and a few of his clients really loved one particular product, "Pearatin Fortifying Repairative Serum". It really is one of the stand-out products in the line, and it has since been re-named "Fortifying Repairative Tonic". This product is phenomenal. It improves hair's  elasticity, which eliminates breakage, improves the hair's condition and integrity, resulting in less breakage due to over-use of heat and chemical processes, and in fewer split ends. This tonic will help your hair stay nice and smooth when blowdrying at home.  
"I love this stuff! Since I've started using it, I get tons of compliments about the softness and shine of my hair. Unlike all the other serums I'd tried, this one doesn't weigh my hair down and it doesn't have an overpowering chemical smell. Highly recommend this serum for all types of hair." –From makeupalley.com
When Loma had the two lines, it was very confusing! Though Loma's product lines consolidated, and their packaging changed, the ingredients remain the same. Loma now is a clearly defined line that's in keeping with their organic heritage and Aloe Vera based products, and they're much easier to understand and use (also, they only kept the best products from each line!) If you have any questions for Loma, join their Facebook Community, and ask away!