Articles from 'Meet our Stylists'
Friday, October 28th, 2016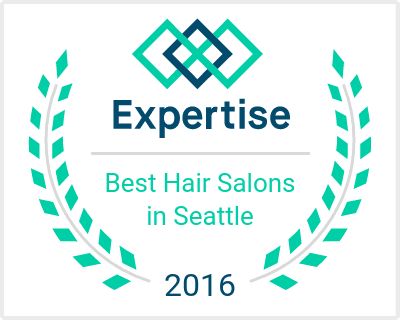 Emerson Salon, a Community of Independent Hair Designers, just received an important distinction of being named by Expertise as ONE OF THE TOP 20 SALONS in SEATTLE !!!
Their selection criteria uses research in the following areas:
Reputation:A history of delighted customers and outstanding service.
Credibility: Building customer confidence with licensing, accreditations, and awards.
Experience: Masters of their craft, based on years of practical experience and education.
Professionalism: Providing service with honesty, reliability, and respect.Providing service with
honesty, reliability, and respect.
Availability: Consistently approachable and responsive, so customers never feel ignored.
At Emerson Salon, we pride ourselves on providing high quality services from trained professionals who are passionate about running their own careers and clientele independently. To receive this honor puts attention to our daily efforts towards making ¬†YOU feel confident with your hair…and therefore, yourself!
Book online TODAY with one of our Stylists or Barbers by choosing your preferred professional's profile, and booking ONLINE through www.emersonsalon.com
SEE YOU AT EMERSON SALON!
Thursday, September 29th, 2016
   In the cosmetology industry, it is important to stay knowledgeable on new technologies in hair color and hair products because innovations in ingredients and trends are ever-changing. To that end, Emerson Salon colorists have started to encounter more and more people with sensitivities and allergies to ammonia and PPD and have wanted to broach this issue for our clienteles.
What is PPD? Phenylenediamine (or PPD) is an organic compound used in hair dyes, as well as in rubber chemicals, textile dyes and pigments. Manufacturers like it because it has a low relative toxicity level, high temperature stability, and chemical and electrical resistance. In other words, it helps the new color stay on your hair despite numerous washings, dryings, and stylings. (from http://www.annmariegianni.com/)
Why is PPD "bad?" The National Institute for Occupational Safety and Health (NIOSH) notes the following:
-PPD is potentially capable of causing multiple toxic effects following skin contact.
-Data from studies of both humans and animals are sufficient to demonstrate that PPD has potent skin-sensitizing properties.
-Several cases of contact dermatitis have been reported following occupational exposure to dyes containing the chemical.
-Studies have also identified the chemical as the third most common ingredient, after fragrances and preservatives, that can cause contact dermatitis from cosmetics (mainly skin-care products, hair preparations and colorants, and facial makeup products).
We listened and have taken on the NEW color line Color.Me Kevin Murphy that is PPD FREE, Ammonia Free, Cruelty free and the ONLY PETA (People for the Ethical Treatment of Animals) approved hair color line. We are so excited! If you look at the image to the left- you will see a color that prematurely faded on resistant grey hair with ammonia based permanent hair color. Then, observe the after as well as the ZERO fadeage after 3 weeks. WOW! What a difference! Check out more before and afters below!
Here is some more information on its features+ ingredients:
Color. Me is a performance driven line which means it is highly predictable and has minimal fade-age.
It has a wonderful rose tea fragrance and barely any chemical smell at all because it is an MEA ammonia derivative and not actual ammonia.
It causes next to no skin irritation and does not stain like ammonia based hair color.
 It contains: shea butter, pomengranate, aloe vera, grapeseed oil, panthenol, almond oil (those with allergies to nuts may be sensitive,) coconut oil and most importantly, HONEY!
The haircolor will never spoil or expire because of the sugars contained in the honey base.
The line is designed for custom formulation and can be made semi, demi or permanent based on the artistic choices of the colorist as well as the desires of the client.
 Has 3 types of bleaches: cream/oil based, ammonia based and non-ammonia lighteners give the professional the control to determine how much damage and lift is incurred on the hair.
  Want to have Color. Me by Kevin Murphy haircolor for your next all over color or balayage?
Book with Jason, D'Arcy, Lancer, or Esther on emersonsalon.com as they are loving the results as they continue to work with it and are delighted to try it on you! Read the rest of this entry
Wednesday, August 31st, 2016
What's it like doing hair on Capitol Hill? "It's fun, it's diverse, it's always crazy- it's always different…It's just this really dense part of Seattle that's full of every single kind of person you can imagine!"
Jason works upstairs alongside Larsen in what he and Larsen have deemed "The Barber Loft". Cosmetology licensed and Barber trained. Since 2005, Jason has worked and studied in barbershops from Seattle to Atlanta. Honing the fine art of Men'Äôs haircuts, beard maintenance and hot towel, straight razor shaves and gray blending.
As an independently run barber, Jason runs his own prices + calendar and works Wed thru Sat.
You can easily book online with Jason or contact him via text.
Thursday, August 25th, 2016
Mentor and former salon owner Matt Buchan recommended a Partners Retreat for co-owners D'Arcy and Lancer. The point was to "to cover whatever things you feel need to be covered, especially long term stuff that can easily get missed in the day to day grind."
What a great idea! Now how to execute? Having never attended a business retreat before, let alone organized one, there was much research to be done (Lancer's forte), and some negotiations to have happen beforehand.
We rented out a room at Impact Hub Seattle, because we wanted to stay local and limit our retreat time to 5 hours. We started out by examining the history and milestones of Emerson Salon. Lancer has been working in the 909 E Pike salon location since 2006- before it became Emerson Salon. D'Arcy came on board shortly afterward, in 2008. Much was shared and learned, and food was to be had! Lunch and snacks were catered in by Specialty's Seattle. The experience was great! We had so much food, and our luncheon arrived on time, with great packaging. It also included an activity- a word search, which D'Arcy finished first!
We then walked around Occidental Park and played foosball- a real treat for us. Usually our lunches occur between clients and we've got 20 minutes to eat, then get back to business.
After we finished all of our agenda items (including adding another one to the list), we needed some quiet time. 15 minutes to be exact, of silence, at the Waterfall Garden park in Pioneer Square. Ahhh, silence! Another luxury we don't often get in our line of business.
We finished our retreat early. Here are the outcomes:
We discussed our lease in the building, and we're happy to say that we'll be renewing our salon location lease for another 3 years.
We went over our Partnership Agreement- you know that document you draft up at the beginning of a business relationship and usually never look at again? Contracts do need tending to, if one uses them in one's business (which we do!)
We also mapped out the transferring of the retail and supplies from Hair Guy Lancer back into the salon. Lancer's been running the retail and supplies business along with his own service business since 2012, and co-owning and operating Emerson Salon with D'Arcy since 2014, and is happy to now have the opportunity to transfer these assets back into the salon business entity (and also have D'Arcy's assistance with these tasks.) When this has transacted, you will notice a business name

change

on your Square receipts!
You're all stuck with us for at least another 3 years!
 We are a community of independent hair designers. 
This means that YOU have a unique opportunity to learn about each professional through their profile before booking an appointment so you can schedule DIRECTLY with your chosen stylist!
New to booking with us? ¬†Here's the Lowdown…
Our Independent Hair Professionals include Stylists and Barbers.
Each professional who runs their business inside Emerson Salon has a profile on this website that has contact information, online booking link, bio and more.
To see their profiles, click HERE>>
D'Arcy, Esther, Lancer,  and Michael are Hair Designers: They do haircuts, haircolor, & balayage for everyone.
 Jason and Larsen are Barbers: They specialize in cutting short to medium length hair. Styling is usually not an option with barbers.
Prices are established by and are individual to each stylist/barber. Prices may also vary by the amount of and type of work involved and your hair length/density/history.
Co-Owners of Emerson Salon: Lancer Forney-McMahon & D'Arcy Harrison (of B. Please LLC). Feel free to let us know if you have any additional questions or concerns at b.please.llc@gmail.com
Wednesday, March 2nd, 2016
When You Walk Down E. Pike St…… You Might Find Us….
…"That Purple Place on Capitol Hill" where the stylists are silly….but take your hair SERIOUSLY!
Book at www.emersonsalon.com
Come Back…. Againsies…..
Video by Larsen the Barber!
Saturday, February 20th, 2016
Emerson Salon is a PROUD SPONSOR of the 2016 Seattle Fringe Festival.
What is the Seattle Fringe Festival?
A celebration of independently produced live performance in the genres of sketch comedy, scripted plays, dance, burlesque, puppetry, clown and more! Feb 25-Mar 5 20 shows perform multiple performances and they all hail from Seattle proper.
This year it will be hosted at Annex Theatre+Eclectic Theater (steps from Emerson Salon!) as well as in the
lower level of the Seattle Center Armory.
Emerson Salon's co-owner, D'Arcy Harrison, is a passionate thespian + producer as well as theatre advocate and marketer on top of her duties as a stylist and company runner. She has many hair clients that hail from the theatre community! She is supporting the festival additionally through fundraising +marketing efforts and hopes you will attend a show or 2!
 Pocket Theater (who is also sponsored by Emerson Salon) in Greenwood is also a community partner of SFF2016 alongside fellow sponsors+partners, Akropolis Performance Lab, Annex Theatre, Theatre Puget Sound, Umbrella Project, Saint John's Bar and Eatery, and SOLO bar.
WHICH of the 20 shows DOES EMERSON SALON RECOMMEND?
 1. A Necessary Sadness will be at Seattle Center Armory's TPS Studio. "A Necessary Sadness explores the                sorrows that exist and connects us. A variety show with storytellers, improv artists, sketch performers, musicians        and a stand up comedian, originally inspired by the Dictionary of Obscure Sorrows."
get tickets at: http://seattlefringefestival.org/a-necessary-sadness/
2.¬†An Oak Tree¬†will be at Seattle Center Armory's TPS Center Theatre. "An absurdly comic play for two actors, ¬† ¬† ¬† ¬† ¬† one of whom has never seen the play or read the script. 'ÄúAn Oak Tree'ÄĚ explores the power of human imagination, ¬† ¬† ¬† ¬† ¬†and our ability to transform our world and ourselves. David Gassner¬†performs with a different guest actor at each ¬† ¬† ¬† ¬†performance. 'ÄúA play about theatre, a magic trick, a laugh and a¬†vivid experience of grief, and it spoils you for a ¬† ¬† ¬† ¬† ¬† ¬†while for other plays.'ÄĚ 'Äď Caryl Churchill
get tickets at: http://seattlefringefestival.org/dump/
3. DUMP  a burlesque show will be at Annex Theatre on Capitol Hill. "DUMP is a depraved, John Waters-                    inspired, Sex and Garbage  Extravaganza, that will make audiences wish they brought a moist towelette."
get tickets at: http://seattlefringefestival.org/dump/
4. Illuminati: the Musical¬†a sketch comedy show by Lovesnack happening at Annex Theatre. "Baylie Freeman ¬† ¬† ¬† ¬†and Caitlin Obom are Love Snack, a musical sketch comedy duo with one goal 'ÄĒ get into theupper echelon of the ¬† ¬† ¬† ¬†Illuminati at all costs. Join them on a journey of unsettling discoveries and unflagging¬†enthusiasm. Finally, a ¬† ¬† ¬† ¬† ¬† ¬† ¬† ¬†multimedia theater presentation that asks and then swiftly answers that age-old¬†question: Can any omnipresent ¬† ¬† ¬† ¬† ¬†and unspeakably influential secret society ever match the power of friendship?"
get tickets at: http://seattlefringefestival.org/lluminati-the-musical/
For additional info, age recommendations, summaries, maps, and parking tips-
go to seattlefringefestival.org …and..
SEE YA AT THE FRINGE! #DoTheFringe #SFF2016 #SEAthtr
Saturday, February 13th, 2016
Who has time to spend over 30 min on their hair? Not many people! We are always running to work and off to meet friends that trying to hours long glam isn't always in the cards. Here are some quick tips for getting a 1-2-3  step style!
For men, these types of cuts pictured to the right that are longer on top and extremely faded down to skin are very popular! But even if you have a medium length haircut, there are 2 go to products you can use quickly for n easy yet refined look
-If you want texture, hold and/or a matte finish: use the beeswax based Night Rider by Kevin Murphy. Its great for creating hold on medium to thicker hair types or densities.
-If you want light hold and a soft sheen finish: use the featherweight Undressed by Kevin Murphy. Its great for finer hair types and creates a shine finish that mimics slight wetness.
If you have short to a longer pixie cut, you can play with different finishes and texture for variety.
-Loma (locally sourced and cruelty free!) has  a range of styling products that are fun to play with on shorter hair. Try The Fiber Putty by Loma to create definition, texture and medium hold. It can be very helpful for holding a swoop bang like in the picture to the right.
-Or for a sleeker look, try Molding Cream by Moroccan Oil. The argan nut oil in it is conditioning and helps create some of the slicked back looks that are so popular on the runways.
If you have medium to long length hair, try creating a soft beachy texture.
-Try and use Kevin Murphy Hair Resort Spray (fine hair) or Hair Resort gel (medium to thick hair) in your  dry hair on the mid shaft to ends. These products will create hold with minimal effort.
-Blow dry the dampness of the product with a slow speed medium heat dryer. Then use a curling iron to rotate the hair around the curling iron (2″-3″ diameter) in varied directions in 2- 3 rotations. ¬†This creates movement and slight volume. Or curl all pieces away from the face ¬†and it will create soft waves. ¬†Make sure not to curl the last 1-2″ of the ends to recreate a tousled look and do not use the clip on the curling iron.
Once the hair is curled and cooled, use your hands to stretch the curl out a bit by grabbing big sections and smoothing your hands down the curls. This will soften them up and make them look more natural. To finish, use Session Spray by Kevin Murphy lightly¬† 12″ away to hold the curl and protect it from humidity.
Once you have done it a couple times, you will become quick like QUICKSILVER getting out the door in the morning or for an event. Going from day to night should be simple and almost effortless….
Ain't no one got time for being a diva 'bout their hair!¬†…Or book a quick styling session with one of our independent stylists online!
Their profiles are on emersonsalon.com and you can easily make an appointment through their booking link!
Thursday, January 7th, 2016
40% off all clearance items!
Q: What's going away, and why?
A: All hair products that have sold less than 2 units in 2015. There'Äôs nothing wrong with these products; they just didn'Äôt do well in our salon…
Alterna: Caviar Clinical Daily Root & Scalp Stimulator, Hemp Paste, Kendi Dry Oil Mist, and Shape (discontinued by Alterna).
Kevin Murphy: Anti.Gravity Spray, Balancing.Wash (Liter), Body.Builder (regular size), Fresh.Hair (regular and travel sizes), Hair.Resort Spray, Texture.Master, and Powder.Puff.
MoroccanOil: Clarifying Shampoo, Curl Control Mousse, Frizz Control, Glimmer Shine Spray, Restorative Mask (250 ml), and Strong Hold Luminous HairSpray.
Q: What's new/on trend?
A: Right now, we have some amazing new Kevin Murphy products- Doo.Over, Stimulate.Me Wash & Rinse, Thick.Again, Free.Hold, Plump.Me Wash & Rinse, and Body.Mass, and we'Äôre about to add some new Kevin.Murphy products…Killer.Curls, Hydrate.Me Mask, and Young.Again Mask.
A: We also have 2 highly skilled barbers working in our upstairs loft space (if you haven't noticed, you really need a haircut!) and we're bringing in Reuzel's red pomade for our more fashion-forward masculine-presenting clientele.