Articles from 'Salon News'
We want you to #BEYOURSELF with your life….and YOUR HAIR! Book with us by Selecting a Stylist Profile HERE.
Wednesday, February 7th, 2018
This past Jan 26-29 was the International Salon and Spa Expo in Long Beach, CA.  This event convenes thousands of cosmetology professionals from around the world and is produced by the Professional Beauty Association: "is a non-profit that exists to elevate, unify and serve the beauty industry and the professionals who improve people's lives."
Co- owners D'Arcy Harrison and Lancer Forney-McMahon attended 2 days each. Both of them attended classes and presentations to further their skills in haircuts and haircolor. The energy of having that many pros in one area was exciting and overwhelming! So much to do and see!
D'Arcy attended "The Art of Technical Haircutting" by FHI and "Painting Balayage," with #balaylama Candy Shaw. D'Arcy was methodical in her shopping for new items to amp up her  client experience in the salon for D'Arcy Hair Design.  She walked around the expo hall checking out all the booths on Saturday and came back after class on Sunday to pick up some new tools. She opted for a Sutra Beauty Infrared Blowdryer- "With Sutra's Ionic Infrared Blow Dryer, infrared heat coats the hair strand deep inside the hair cuticle, heating from the inside of the hair shaft out, while protecting the outer layer of hair. " D'Arcy also purchased a Hot Tools Curl Bar that uses a curl timer and a digital temperature readout as well as offering a more ergonomic experience for the stylist. To learn more about D'Arcy and request an appointment with her, visit her Website!
Lancer attended "The Art of Razor Cutting and Color Movement" Hands-On class taught by CoCre8 duo Christopher Dove and John Simpson, and has been using techniques learned in this class on many of his clients, with much success!  He also attended a lecture about alopecia given by Jared Reynolds, Biomolecular Chemist, creator and founder of Zenagen Haircare, and is currently testing the Revolve system on his husband, with visible hair regrowth success already! After much learning, some entertainment was in order, and D'Arcy and Lancer enjoyed watching Ted Gibson and his team having fun with models onstage. Ted Gibson is the man behind Angelina Jolie's hair and numerous other celebrities we've all seen on just about every magazine cover!
Day Two for Lancer was all about Wellness. Hair Guy Lancer, P.L.L.C. intends to stay working behind the chair for as long as he wants to, and toward that end, actively takes ownership of his health and body. What a treat to be able to learn from not just hairdressers but other professionals who   understand that our job is very physical, and that ergonomics, nutrition, medication, and other forms of self-care are crucial to our longevity in our industry! First was Healthy Haircutting by Guinness World Hair Cutting record breaker ClipperGuy Ivan Zoot. I
van taught Lancer how to stay healthy behind the chair, during breaks, and how to deal with height differences between client and stylist, among other things! Lancer already meditates along with practicing Lo Jong mind training through a local Sangha, so he attended a meditation session that was very different (and will stick to his current methods, thank you very much!) but it was good to have a meditative space at the Expo! Lancer already cooks all of the food for himself and his husband at home, but is always looking for food preparation hacks. "Healthy Snacks for Hungry People, by Katrina Goldberg did not disappoint! Katrina showed Lancer how prepping more garlic than you need gives you "savings" for later in the week, and also affirmed that when you have things prepped at home, you're way more inclined to eat at home as well as to use everything you've invested your hard labor into! Last but not least was all about not wrecking your body by using better office furniture, stretching, etc. To learn more about Lancer and request an appointment with him, visit his Website!
Another fun aspect to a convention of this type is the opportunity to interact with exciting hair color, hair tools and product companies selling deals and demonstrating techniques and products. We enjoyed seeing companies we work with in the salon such as Moroccan Oil, Olaplex, Pulp Riot, Pravana, Hot Tools, BABE extensions and many more.
We even ran into Seattle salon owner colleague, Daniel Keane (seen with D'Arcy far left), who owns Serenza Salon & Spa in Burien. He used to educate for us when we used a former color line and it was a joy to see him doing his thing demonstrating tools.
Staying up on current trends, education and technical info is the sign of strong hair designers who care about providing top notch service and quality results.
Join us in the salon and see our honed expertise by booking 24/7 online with emersonsalon.com.
(To see more pics from #ISSE2018 go to: https://probeauty.smugmug.com/Events/ISSE-Long-Beach)
Friday, August 18th, 2017
THE KEVIN MURPHY EXPERIENCE
From time to time, we have an opportunity to have educators from our favorite brands give us some inspiring styling tutorials and advice. This week, Sara (an educator for Kevin Murphy International kevinmurphy.com.au) came in from Austin, TX to help us strengthen our finishing skills with Kevin Murphy products. The Kevin Murphy range is based on skincare and has high performance results.
Our model,Kenna, has longer, fine slightly wavy hair. D'Arcy prepped her by detoxing her hair twice with Maxi.Wash (an alpha hydroxy  detox shampoo- not a clarifier) and followed it with Angel.Wash and Angel.Masque.
After a quick towel dry ballerina bun, Sara applied Leave.In Repair. Then she used Body.Mass on all the roots to assist in plumping and lift at the base. To enhance movement to the hair, she added Motion.Lotion and dried on a high heat low speed setting and kept squeezing the hair until 85% dry
To finish, Sara sprayed Bedroom.Hair that helps with some hold as well as aiding in keeping the hair fluffy and full.
Sara then moved on to create a second look on Kenna. She used a 2.25″ clipless curling iron to create soft bend to large sections of hair. The key tip was not to wrap the hair completely but only in 1.5 rotations and continuing the rolling action (back and forth) for up  to 30 seconds. She then finished with quick shots of Doo.Over to help emphasize the softness of the look.
Our second model, Karen, has naturally wavy, frizzy hair. Sara prepped her with Smooth Again Wash and Rinse to help lay down the cuticle to eliminate frizz. Then she applied AntiGravity all over and then a tad of Motion Lotion on the ends. She then used small clips to prop up the roots towards the top and then used applied the Texture Net over the entire head. She then placed Karen under a Medium Heat hood dryer for 20 min. Voila! Controlled texture with no frizz.
See the result below!
…..And to entice you into a new Kevin Murphy product…..
WHEN YOU BUY 2 REGULAR SIZE KEVIN MURPHY PRODUCTS
– receive a FREE mini size of your choice!
Want a customized recommendation of what products work well for your hair?
Book a FREE consultation with one of our EXPERIENCED Pros!
Book automatically online through their profiles at emersonsalon.com
Here at Emerson Salon, we are all independent hairstylists…but you ask, what does that mean?
It means none of us are employees. We each operate individually, running all aspects of our small businesses under one roof. 
What is required to be an independent booth renter in WA state? There is some paperwork all our stylists are required to get and stay current on. They need: a cosmetology license, a salon/shop license, a master business license from WA state and a City of Seattle business license. Also, to make sure all our stylists are protected they are required to have a minimum of general liability insurance for any  possible incidents with a client in their chair.
Each stylist is responsible for saving for and paying their taxes following tracking their business expenses and deductions. Trust us, its not always easy or straightforward but definitely pays off in happy clients who return on a regular basis.
Our stylists and barbers manage their own clients and calendar appointments themselves. No, we don't have receptionists, but each operator has online booking.  This is nice because sometimes life throws a curve ball and you have to run an errand a morning before taking clients. This way, the stylist doesn't have to ask permission they just block out that time in the schedule that they won't be in the salon. Some  stylists give their email and pricelist and others also add a website, portfolio or an automatic booking system to their Emerson Salon website profile. Everything you need to book with one of them is at your fingertips!
Each stylist has different specialties, pricing, and services. For example, some stylists do not perform color corrections or formal styling, and not all barbers do straight razor face shaves. Some stylists do permanents or smoothing services and others do not. It's all up to the operator as to the services offered. so we highly recommend perusing everyone's profiles to find a barber or stylist who is best for your hair needs.
Pre-Booking an Appointment is highly recommended! Because we do not control other operators' calendars, it is important to understand that making an appointment will guarantee you get the time and stylist you prefer. We love it when people walk in, but it is hard to accommodate you when only 1-2 stylists are in and are already booked with clients. It really is BEST to book online whenever possible!
Other salons tend to be commission (% of services goes to the stylist) or wage based (hourly rate.) These are employer based jobs and can run a significant amount of overhead in Payroll, Accounting and Taxes. Being independent means minimized overheard for Emerson Salon and puts the responsibility of earning on the stylist.
Curious about our Independent Stylists? Check out their profiles and contact one of them today!
Friday, October 28th, 2016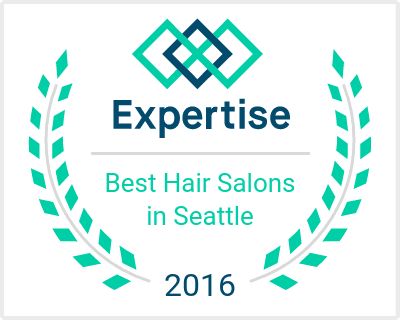 Emerson Salon, a Community of Independent Hair Designers, just received an important distinction of being named by Expertise as ONE OF THE TOP 20 SALONS in SEATTLE !!!
Their selection criteria uses research in the following areas:
Reputation:A history of delighted customers and outstanding service.
Credibility: Building customer confidence with licensing, accreditations, and awards.
Experience: Masters of their craft, based on years of practical experience and education.
Professionalism: Providing service with honesty, reliability, and respect.Providing service with
honesty, reliability, and respect.
Availability: Consistently approachable and responsive, so customers never feel ignored.
At Emerson Salon, we pride ourselves on providing high quality services from trained professionals who are passionate about running their own careers and clientele independently. To receive this honor puts attention to our daily efforts towards making  YOU feel confident with your hair…and therefore, yourself!
Book online TODAY with one of our Stylists or Barbers by choosing your preferred professional's profile, and booking ONLINE through www.emersonsalon.com
SEE YOU AT EMERSON SALON!
Thursday, August 25th, 2016
Mentor and former salon owner Matt Buchan recommended a Partners Retreat for co-owners D'Arcy and Lancer. The point was to "to cover whatever things you feel need to be covered, especially long term stuff that can easily get missed in the day to day grind."
What a great idea! Now how to execute? Having never attended a business retreat before, let alone organized one, there was much research to be done (Lancer's forte), and some negotiations to have happen beforehand.
We rented out a room at Impact Hub Seattle, because we wanted to stay local and limit our retreat time to 5 hours. We started out by examining the history and milestones of Emerson Salon. Lancer has been working in the 909 E Pike salon location since 2006- before it became Emerson Salon. D'Arcy came on board shortly afterward, in 2008. Much was shared and learned, and food was to be had! Lunch and snacks were catered in by Specialty's Seattle. The experience was great! We had so much food, and our luncheon arrived on time, with great packaging. It also included an activity- a word search, which D'Arcy finished first!
We then walked around Occidental Park and played foosball- a real treat for us. Usually our lunches occur between clients and we've got 20 minutes to eat, then get back to business.
After we finished all of our agenda items (including adding another one to the list), we needed some quiet time. 15 minutes to be exact, of silence, at the Waterfall Garden park in Pioneer Square. Ahhh, silence! Another luxury we don't often get in our line of business.
We finished our retreat early. Here are the outcomes:
We discussed our lease in the building, and we're happy to say that we'll be renewing our salon location lease for another 3 years.
We went over our Partnership Agreement- you know that document you draft up at the beginning of a business relationship and usually never look at again? Contracts do need tending to, if one uses them in one's business (which we do!)
We also mapped out the transferring of the retail and supplies from Hair Guy Lancer back into the salon. Lancer's been running the retail and supplies business along with his own service business since 2012, and co-owning and operating Emerson Salon with D'Arcy since 2014, and is happy to now have the opportunity to transfer these assets back into the salon business entity (and also have D'Arcy's assistance with these tasks.) When this has transacted, you will notice a business name

change

on your Square receipts!
You're all stuck with us for at least another 3 years!
Wednesday, March 2nd, 2016
When You Walk Down E. Pike St…You Might Find Us….
"That Purple Place on Capitol Hill"
Book at www.emersonsalon.com
Video by Larsen the Barber!
Tuesday, November 17th, 2015
Emerson Salon is growing, evolving and changing constantly- just like hair!
From a new chandelier to decor shifts  and now-
We have changes as to which stylists decide to lease and conduct their businesses inside of Emerson.
We aim to empower independent hair designers at Emerson Salon and are so excited to round out our team with these exceptional craftsmen!
Find out more about our stylists through www.emersonsalon.com
Tuesday, September 15th, 2015
Ok, ok!
………………WE CONFESS!!!………….
Emerson Salon is a salon without front desk receptionists!
(CLUTCH THE PEARLS)
 It's OK! WE PROMISE! It totally is!
Salons are NOT all run the same, times are changing with new technologies and having receptionists is NOT the only way to provide quality service in a hair salon!
Having receptionists is an expensive luxury to have when  stylists can do most of the essential business functions themselves with a mobile device app,
laptop or smartphone for scheduling and payment. 
Co-Owners of Emerson Salon (Lancer Forney and D'Arcy Harrison) chose not to have receptionists so each individual self employed stylist inside Emerson Salon can maximize their profitability and run their hair chair as they see fit (beyond general safety, sanitation, licensur

e, leasure and insurance obligations. ) They are trained, seasoned, screened professionals with the expertise to execute fantastic hair transformations while concurrently doing their own business tasks.
Emerson Salon does offer easy online 24 hrs a day booking with your preferred stylist. Your stylist is in absolute control of their appointment calendar, its set up and communications.
PLEASE MAKE ONLINE APPOINTMENTS 12-24 HOURS IN ADVANCE.
Why is it better to book ahead?
Well, we are happy to share an inside scoop on our community of independent hair designers.  🙂
Because all our stylists have ultimate control over their calendars and business and its very important to give them the space to customize their day. Doing hair is ultimately a business- one that is fun, exciting and ever changing with new trends and techniques but also requiring of time, care and expertise.
We cannot always guarantee same day availability.
If it is possible- we will do our best to help make a same day appointment happen but
that is entirely up to the discretion of the independent hair designer you wish to work with.
We understand life runs quickly….. but in the land of Hair-
Planning, Preparation and Patience are KEY for you to receive "Happy hair!"
We appreciate our WONDERFUL clients and aim to make sure every individual feels taken care of and listened to when they are with us inside Emerson Salon.
Come to us "For Style That Works"
by booking with
Wednesday, July 22nd, 2015
WOW! We cannot believe it! After almost a year of new ownership-
We are a finalist in the Seattle Weekly's "BEST OF" reader poll! VOTE HERE! bit.ly/1Mh37MI 
PLEASE! Show us you #LoveEmerson and
Register and VOTE for Emerson Salon BEFORE JULY 26th
in the "HAIR SALON" category on the link below:
We have a lot of competition in the busy hub of Seattle so ….. feel free to vote and vote often!
A Community of Independently Run Hair Designers Who Are "For Style That Works!"