Articles from 'Seattle'
Monday, November 7th, 2016
Friday, October 28th, 2016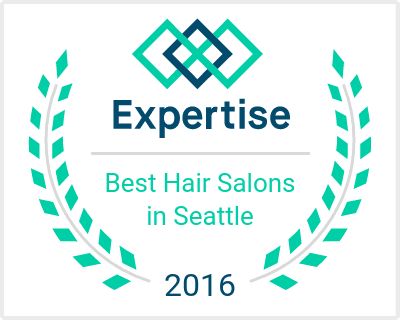 Emerson Salon, a Community of Independent Hair Designers, just received an important distinction of being named by Expertise as ONE OF THE TOP 20 SALONS in SEATTLE !!!
Their selection criteria uses research in the following areas:
Reputation:A history of delighted customers and outstanding service.
Credibility: Building customer confidence with licensing, accreditations, and awards.
Experience: Masters of their craft, based on years of practical experience and education.
Professionalism: Providing service with honesty, reliability, and respect.Providing service with
honesty, reliability, and respect.
Availability: Consistently approachable and responsive, so customers never feel ignored.
At Emerson Salon, we pride ourselves on providing high quality services from trained professionals who are passionate about running their own careers and clientele independently. To receive this honor puts attention to our daily efforts towards making ¬†YOU feel confident with your hair…and therefore, yourself!
Book online TODAY with one of our Stylists or Barbers by choosing your preferred professional's profile, and booking ONLINE through www.emersonsalon.com
SEE YOU AT EMERSON SALON!
Wednesday, August 31st, 2016
What's it like doing hair on Capitol Hill? "It's fun, it's diverse, it's always crazy- it's always different…It's just this really dense part of Seattle that's full of every single kind of person you can imagine!"
Jason works upstairs alongside Larsen in what he and Larsen have deemed "The Barber Loft". Cosmetology licensed and Barber trained. Since 2005, Jason has worked and studied in barbershops from Seattle to Atlanta. Honing the fine art of Men'Äôs haircuts, beard maintenance and hot towel, straight razor shaves and gray blending.
As an independently run barber, Jason runs his own prices + calendar and works Wed thru Sat.
You can easily book online with Jason or contact him via text.
Wednesday, July 13th, 2016
Larsen is a trained Barber with a sharp wit and a laid back demeanor and he is a joy to work around! He works upstairs in what we playfully call,"The Barber Loft" and has been doing hair on Capitol Hill for a number of years. As an independently run barber, Larsen runs his own prices + calendar and works Wed thru Sat.
He specializes in short haircuts & tight fades that range in price in his chair from $25-50 dependent on work involved.
You can easily book online with him at emersonsalon.com/stylist/larsen  or contact him via phone or email.
 We are a community of independent hair designers. 
This means that YOU have a unique opportunity to learn about each professional through their profile before booking an appointment so you can schedule DIRECTLY with your chosen stylist!
New to booking with us? ¬†Here's the Lowdown…
Our Independent Hair Professionals include Stylists and Barbers.
Each professional who runs their business inside Emerson Salon has a profile on this website that has contact information, online booking link, bio and more.
To see their profiles, click HERE>>
D'Arcy, Esther, Lancer,  and Michael are Hair Designers: They do haircuts, haircolor, & balayage for everyone.
 Jason and Larsen are Barbers: They specialize in cutting short to medium length hair. Styling is usually not an option with barbers.
Prices are established by and are individual to each stylist/barber. Prices may also vary by the amount of and type of work involved and your hair length/density/history.
Co-Owners of Emerson Salon: Lancer Forney-McMahon & D'Arcy Harrison (of B. Please LLC). Feel free to let us know if you have any additional questions or concerns at b.please.llc@gmail.com
Wednesday, March 2nd, 2016
When You Walk Down E. Pike St…… You Might Find Us….
…"That Purple Place on Capitol Hill" where the stylists are silly….but take your hair SERIOUSLY!
Book at www.emersonsalon.com
Come Back…. Againsies…..
Video by Larsen the Barber!
Saturday, February 20th, 2016
Emerson Salon is a PROUD SPONSOR of the 2016 Seattle Fringe Festival.
What is the Seattle Fringe Festival?
A celebration of independently produced live performance in the genres of sketch comedy, scripted plays, dance, burlesque, puppetry, clown and more! Feb 25-Mar 5 20 shows perform multiple performances and they all hail from Seattle proper.
This year it will be hosted at Annex Theatre+Eclectic Theater (steps from Emerson Salon!) as well as in the
lower level of the Seattle Center Armory.
Emerson Salon's co-owner, D'Arcy Harrison, is a passionate thespian + producer as well as theatre advocate and marketer on top of her duties as a stylist and company runner. She has many hair clients that hail from the theatre community! She is supporting the festival additionally through fundraising +marketing efforts and hopes you will attend a show or 2!
 Pocket Theater (who is also sponsored by Emerson Salon) in Greenwood is also a community partner of SFF2016 alongside fellow sponsors+partners, Akropolis Performance Lab, Annex Theatre, Theatre Puget Sound, Umbrella Project, Saint John's Bar and Eatery, and SOLO bar.
WHICH of the 20 shows DOES EMERSON SALON RECOMMEND?
 1. A Necessary Sadness will be at Seattle Center Armory's TPS Studio. "A Necessary Sadness explores the                sorrows that exist and connects us. A variety show with storytellers, improv artists, sketch performers, musicians        and a stand up comedian, originally inspired by the Dictionary of Obscure Sorrows."
get tickets at: http://seattlefringefestival.org/a-necessary-sadness/
2.¬†An Oak Tree¬†will be at Seattle Center Armory's TPS Center Theatre. "An absurdly comic play for two actors, ¬† ¬† ¬† ¬† ¬† one of whom has never seen the play or read the script. 'ÄúAn Oak Tree'ÄĚ explores the power of human imagination, ¬† ¬† ¬† ¬† ¬†and our ability to transform our world and ourselves. David Gassner¬†performs with a different guest actor at each ¬† ¬† ¬† ¬†performance. 'ÄúA play about theatre, a magic trick, a laugh and a¬†vivid experience of grief, and it spoils you for a ¬† ¬† ¬† ¬† ¬† ¬†while for other plays.'ÄĚ 'Äď Caryl Churchill
get tickets at: http://seattlefringefestival.org/dump/
3. DUMP  a burlesque show will be at Annex Theatre on Capitol Hill. "DUMP is a depraved, John Waters-                    inspired, Sex and Garbage  Extravaganza, that will make audiences wish they brought a moist towelette."
get tickets at: http://seattlefringefestival.org/dump/
4. Illuminati: the Musical¬†a sketch comedy show by Lovesnack happening at Annex Theatre. "Baylie Freeman ¬† ¬† ¬† ¬†and Caitlin Obom are Love Snack, a musical sketch comedy duo with one goal 'ÄĒ get into theupper echelon of the ¬† ¬† ¬† ¬†Illuminati at all costs. Join them on a journey of unsettling discoveries and unflagging¬†enthusiasm. Finally, a ¬† ¬† ¬† ¬† ¬† ¬† ¬† ¬†multimedia theater presentation that asks and then swiftly answers that age-old¬†question: Can any omnipresent ¬† ¬† ¬† ¬† ¬†and unspeakably influential secret society ever match the power of friendship?"
get tickets at: http://seattlefringefestival.org/lluminati-the-musical/
For additional info, age recommendations, summaries, maps, and parking tips-
go to seattlefringefestival.org …and..
SEE YA AT THE FRINGE! #DoTheFringe #SFF2016 #SEAthtr
Tuesday, November 17th, 2015
Emerson Salon is growing, evolving and changing constantly- just like hair!
From a new chandelier to decor shifts  and now-
We have changes as to which stylists decide to lease and conduct their businesses inside of Emerson.
Chandra Chenvert has moved on from Emerson Salon. You may reach her at ph# (206) 713-4085
Jason Farmer (The Barber Jason) has RETURNED to Emerson Salon.
You can reach him via text message (206) 326-0894 for a men's cut or towel shave Wed thru Sat!
Or book online with Jason HERE.
Kyle Larsen (Known as Larsen) is now at Emerson Salon!
To book a men's cut appointment with Larsen,  you may reach him via text message at (206) 384-5508 Wed thru Sat!
Or book online with Larsen HERE.
We aim to empower independent hair designers at Emerson Salon and are so excited to round out our team with these exceptional craftsmen!
Find out more about our stylists through www.emersonsalon.com
Saturday, November 7th, 2015
Meet Emerson Salon'Äôs newest haircare line addition: Loma Haircare.¬†Loma products work great, smell great, and are very economically priced and locally made (in Monroe, WA). Loma also prints their own bottles, blends their own products, and fills their own bottles, which makes the company 'Äúone of the last independently owned and operated brands in the professional beauty industry actually manufacturing 100% of its own products.'ÄĚ
Loma believes in Renewable, Sustainable Beauty; containing naturally healing, organic ingredients and essential oil based fragrances that embrace this belief.¬†'ÄúLoma pioneered and set the standard for the use of Certified Organic Aloe Vera Gel, the primary base for all Loma products.'ÄĚ
Loma has been around since 1991, and the company used to have 2 lines: Pearatin and Loma. Hair Guy Lancer, Emerson Salon co-owner, had used Peratin in the past (2004-2006), and a few of his clients really loved one particular product, 'ÄúPearatin Fortifying Repairative Serum'ÄĚ. It really is one of the stand-out products in the line, and it has since been re-named 'ÄúFortifying Repairative Tonic'ÄĚ.¬†This product is phenomenal. It improves hair'Äôs ¬†elasticity, which eliminates breakage, improves the hair'Äôs condition and integrity, resulting in less breakage due to over-use of heat and chemical processes, and in fewer split ends. This tonic will help your hair stay nice and smooth when blowdrying at home. ¬†
"I love this stuff! Since I've started using it, I get tons of compliments about the softness and shine of my hair. Unlike all the other serums I'd tried, this one doesn't weigh my hair down and it doesn't have an overpowering chemical smell. Highly recommend this serum for all types of hair." –From makeupalley.com
When Loma had the two lines, it was very confusing! Though Loma's product lines consolidated, and their packaging changed, the ingredients remain the same. Loma now is a clearly defined line that's in keeping with their organic heritage and Aloe Vera based products, and they're much easier to understand and use (also, they only kept the best products from each line!) If you have any questions for Loma, join their Facebook Community, and ask away!