Articles from 'Seattle Hair Salons'
Monday, November 7th, 2016
Friday, October 28th, 2016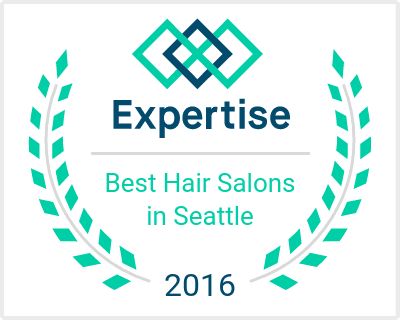 Emerson Salon, a Community of Independent Hair Designers, just received an important distinction of being named by Expertise as ONE OF THE TOP 20 SALONS in SEATTLE !!!
Their selection criteria uses research in the following areas:
Reputation:A history of delighted customers and outstanding service.
Credibility: Building customer confidence with licensing, accreditations, and awards.
Experience: Masters of their craft, based on years of practical experience and education.
Professionalism: Providing service with honesty, reliability, and respect.Providing service with
honesty, reliability, and respect.
Availability: Consistently approachable and responsive, so customers never feel ignored.
At Emerson Salon, we pride ourselves on providing high quality services from trained professionals who are passionate about running their own careers and clientele independently. To receive this honor puts attention to our daily efforts towards making ¬†YOU feel confident with your hair…and therefore, yourself!
Book online TODAY with one of our Stylists or Barbers by choosing your preferred professional's profile, and booking ONLINE through www.emersonsalon.com
SEE YOU AT EMERSON SALON!
Wednesday, August 31st, 2016
What's it like doing hair on Capitol Hill? "It's fun, it's diverse, it's always crazy- it's always different…It's just this really dense part of Seattle that's full of every single kind of person you can imagine!"
Jason works upstairs alongside Larsen in what he and Larsen have deemed "The Barber Loft". Cosmetology licensed and Barber trained. Since 2005, Jason has worked and studied in barbershops from Seattle to Atlanta. Honing the fine art of Men'Äôs haircuts, beard maintenance and hot towel, straight razor shaves and gray blending.
As an independently run barber, Jason runs his own prices + calendar and works Wed thru Sat.
You can easily book online with Jason or contact him via text.
Thursday, August 25th, 2016
Mentor and former salon owner Matt Buchan recommended a Partners Retreat for co-owners D'Arcy and Lancer. The point was to "to cover whatever things you feel need to be covered, especially long term stuff that can easily get missed in the day to day grind."
What a great idea! Now how to execute? Having never attended a business retreat before, let alone organized one, there was much research to be done (Lancer's forte), and some negotiations to have happen beforehand.
We rented out a room at Impact Hub Seattle, because we wanted to stay local and limit our retreat time to 5 hours. We started out by examining the history and milestones of Emerson Salon. Lancer has been working in the 909 E Pike salon location since 2006- before it became Emerson Salon. D'Arcy came on board shortly afterward, in 2008. Much was shared and learned, and food was to be had! Lunch and snacks were catered in by Specialty's Seattle. The experience was great! We had so much food, and our luncheon arrived on time, with great packaging. It also included an activity- a word search, which D'Arcy finished first!
We then walked around Occidental Park and played foosball- a real treat for us. Usually our lunches occur between clients and we've got 20 minutes to eat, then get back to business.
After we finished all of our agenda items (including adding another one to the list), we needed some quiet time. 15 minutes to be exact, of silence, at the Waterfall Garden park in Pioneer Square. Ahhh, silence! Another luxury we don't often get in our line of business.
We finished our retreat early. Here are the outcomes:
We discussed our lease in the building, and we're happy to say that we'll be renewing our salon location lease for another 3 years.
We went over our Partnership Agreement- you know that document you draft up at the beginning of a business relationship and usually never look at again? Contracts do need tending to, if one uses them in one's business (which we do!)
We also mapped out the transferring of the retail and supplies from Hair Guy Lancer back into the salon. Lancer's been running the retail and supplies business along with his own service business since 2012, and co-owning and operating Emerson Salon with D'Arcy since 2014, and is happy to now have the opportunity to transfer these assets back into the salon business entity (and also have D'Arcy's assistance with these tasks.) When this has transacted, you will notice a business name

change

on your Square receipts!
You're all stuck with us for at least another 3 years!
Wednesday, July 13th, 2016
Larsen is a trained Barber with a sharp wit and a laid back demeanor and he is a joy to work around! He works upstairs in what we playfully call,"The Barber Loft" and has been doing hair on Capitol Hill for a number of years. As an independently run barber, Larsen runs his own prices + calendar and works Wed thru Sat.
He specializes in short haircuts & tight fades that range in price in his chair from $25-50 dependent on work involved.
You can easily book online with him at emersonsalon.com/stylist/larsen  or contact him via phone or email.
 We are a community of independent hair designers. 
This means that YOU have a unique opportunity to learn about each professional through their profile before booking an appointment so you can schedule DIRECTLY with your chosen stylist!
New to booking with us? ¬†Here's the Lowdown…
Our Independent Hair Professionals include Stylists and Barbers.
Each professional who runs their business inside Emerson Salon has a profile on this website that has contact information, online booking link, bio and more.
To see their profiles, click HERE>>
D'Arcy, Esther, Lancer,  and Michael are Hair Designers: They do haircuts, haircolor, & balayage for everyone.
 Jason and Larsen are Barbers: They specialize in cutting short to medium length hair. Styling is usually not an option with barbers.
Prices are established by and are individual to each stylist/barber. Prices may also vary by the amount of and type of work involved and your hair length/density/history.
Co-Owners of Emerson Salon: Lancer Forney-McMahon & D'Arcy Harrison (of B. Please LLC). Feel free to let us know if you have any additional questions or concerns at b.please.llc@gmail.com
Wednesday, March 2nd, 2016
When You Walk Down E. Pike St…… You Might Find Us….
…"That Purple Place on Capitol Hill" where the stylists are silly….but take your hair SERIOUSLY!
Book at www.emersonsalon.com
Come Back…. Againsies…..
Video by Larsen the Barber!
Thursday, October 1st, 2015
Long hair looks are sultry and give you many, many options for styling. Here we show you some of our favorite long hair styles and haircolors!
Color:

This is a balayage haircoloring service with soft golden dark blond and small flicks of lighter blond through the top and front. Ideally, your hair is medium to dark brown naturally so grow out  and maintenance will be minimalized.

Styling this:

Blow dry with Moroccan Oil Original Treatment for heat protection, shine and moisture. Then apply a Kevin Murphy's Anti-Gravity Spray before using a large barrel curling iron to create soft curl+wave.

Finish

with flexible Working Spray by Alterna Caviar which contains caviar extract to protect the hair from over drying.
Color: This is a soft balayage technique on medium dark brown hair. It is possible to achieve this with lifting haircolor on naturally pigmented hair to minimize damage.

Styling this:

Once blown dry with Anti-Gravity lotion by Kevin Murphy, put the hair into 4 slightly loose braids. Take a flatiron and clamp down on the brain from the midshaft to the ends. Allow to cool and release the braids.

Finish

with Moroccan Oil Medium Hold Hairspray..and go!
Color: This is a soft auburn haircolor with hints of strawberry blond balayage through the front and top.

Styling this:

 Blow dry on low speed medium heat from damp with Motion Lotion by Kevin Murphy for curl enhancement and frizz control. Then gather the hair to the side and 3 strand braid close to your neck. Hold the ends and loosen the braid by lightly tugging on the strands.

Finish

by securing the ends with a hair tie and use a curling iron to make bends in through pulled out pieces in front.
Color:

This is an all over color in transluscent medium dark brown with neutral to ash tones.

Styling this:

Blow dry from damp with a large round brush using Moroccan Oil Volumizing Mousse. Apply Dry Shampoo by Alterna Caviar at the roots to help keep volume. Then, back brush with a boar bristle brush 2″ from hair line in 2″ sections and spray with Working Spray. Brush the hairline over the volume and slowly smooth out the bumps spraying again. Secure with a few bobby pins by twisting the hair in the back.

Finish:

Rough up the ends with a little teasing and go!
Color: This is a soft "sombre" balayage that leaves the natural at the midshaft and subtly blends into 1 level lighter than 2 levels lighter on the ends. This look grows out beautifully and once achieved needs maintenance every 3-4 months.
Styling This: Use Undressed by Kevin Murphy to slick the hair into a high ponytail. Grab a piece of hair to wrap around the ponytail holder 3- 4 X and bobby pin securely into the base of the ponytail. Now softly make a 3 strand braid and secure with another ponytail holder.
Finish this by misting with a shine spray like Kendi Oil by Alterna Bamboo for shine on the entire thing.
……OR schedule a styling appointment with one of our independent hair designers and treat yourself to some fun style!
Go to emersonsalon.com now to book online!
Tuesday, September 15th, 2015
Ok, ok!
………………WE CONFESS!!!………….
Emerson Salon is a salon without front desk receptionists!
(CLUTCH THE PEARLS)
 It's OK! WE PROMISE! It totally is!
Salons are NOT all run the same, times are changing with new technologies and having receptionists is NOT the only way to provide quality service in a hair salon!
Having receptionists is an expensive luxury to have when  stylists can do most of the essential business functions themselves with a mobile device app,
laptop or smartphone for scheduling and payment. 
Co-Owners of Emerson Salon (Lancer Forney and D'Arcy Harrison) chose not to have receptionists so each individual self employed stylist inside Emerson Salon can maximize their profitability and run their hair chair as they see fit (beyond general safety, sanitation, licensur

e, leasure and insurance obligations. ) They are trained, seasoned, screened professionals with the expertise to execute fantastic hair transformations while concurrently doing their own business tasks.
Emerson Salon does offer easy online 24 hrs a day booking with your preferred stylist. Your stylist is in absolute control of their appointment calendar, its set up and communications.
PLEASE MAKE ONLINE APPOINTMENTS 12-24 HOURS IN ADVANCE.
Why is it better to book ahead?
Well, we are happy to share an inside scoop on our community of independent hair designers. ¬†ūüôā
Because all our stylists have ultimate control over their calendars and business and its very important to give them the space to customize their day. Doing hair is ultimately a business- one that is fun, exciting and ever changing with new trends and techniques but also requiring of time, care and expertise.
We cannot always guarantee same day availability.
If it is possible- we will do our best to help make a same day appointment happen but
that is entirely up to the discretion of the independent hair designer you wish to work with.
We understand life runs quickly….. but in the land of Hair-
Planning, Preparation and Patience are KEY for you to receive "Happy hair!"
We appreciate our WONDERFUL clients and aim to make sure every individual feels taken care of and listened to when they are with us inside Emerson Salon.
Come to us "For Style That Works"
by booking with