Articles from 'Seattle'
We want you to #BEYOURSELF with your life….and YOUR HAIR! Book with us by Selecting a Stylist Profile HERE.
Friday, August 18th, 2017
THE KEVIN MURPHY EXPERIENCE
From time to time, we have an opportunity to have educators from our favorite brands give us some inspiring styling tutorials and advice. This week, Sara (an educator for Kevin Murphy International kevinmurphy.com.au) came in from Austin, TX to help us strengthen our finishing skills with Kevin Murphy products. The Kevin Murphy range is based on skincare and has high performance results.
Our model,Kenna, has longer, fine slightly wavy hair. D'Arcy prepped her by detoxing her hair twice with Maxi.Wash (an alpha hydroxy  detox shampoo- not a clarifier) and followed it with Angel.Wash and Angel.Masque.
After a quick towel dry ballerina bun, Sara applied Leave.In Repair. Then she used Body.Mass on all the roots to assist in plumping and lift at the base. To enhance movement to the hair, she added Motion.Lotion and dried on a high heat low speed setting and kept squeezing the hair until 85% dry
To finish, Sara sprayed Bedroom.Hair that helps with some hold as well as aiding in keeping the hair fluffy and full.
Sara then moved on to create a second look on Kenna. She used a 2.25″ clipless curling iron to create soft bend to large sections of hair. The key tip was not to wrap the hair completely but only in 1.5 rotations and continuing the rolling action (back and forth) for up  to 30 seconds. She then finished with quick shots of Doo.Over to help emphasize the softness of the look.
Our second model, Karen, has naturally wavy, frizzy hair. Sara prepped her with Smooth Again Wash and Rinse to help lay down the cuticle to eliminate frizz. Then she applied AntiGravity all over and then a tad of Motion Lotion on the ends. She then used small clips to prop up the roots towards the top and then used applied the Texture Net over the entire head. She then placed Karen under a Medium Heat hood dryer for 20 min. Voila! Controlled texture with no frizz.
See the result below!
…..And to entice you into a new Kevin Murphy product…..
WHEN YOU BUY 2 REGULAR SIZE KEVIN MURPHY PRODUCTS
– receive a FREE mini size of your choice!
Want a customized recommendation of what products work well for your hair?
Book a FREE consultation with one of our EXPERIENCED Pros!
Book automatically online through their profiles at emersonsalon.com
 We are a community of independent hair designers. 
This means that YOU have a unique opportunity to learn about each professional through their profile before booking an appointment so you can schedule DIRECTLY with your chosen stylist!
New to booking with us?  Here's the Lowdown…
Our Independent Hair Professionals include Stylists and Barbers.
Each professional who runs their business inside Emerson Salon has a profile on this website that has contact information, online booking link, bio and more.
To see their profiles, click HERE>>
D'Arcy, Chelsea, Lancer,  and Michael are Hair Designers: They do haircuts, haircolor, & balayage for everyone.
Prices are established by and are individual to each stylist. Prices may also vary by the amount of and type of work involved and your hair length/density/history.
Co-Owners of Emerson Salon: Lancer Forney-McMahon & D'Arcy Harrison (of B. Please LLC). Feel free to let us know if you have any additional questions or concerns at b.please.llc@gmail.com
Now is the time of year in Seattle where the rainy days arrive less frequently, the leaves come out and people smile a little brighter!
With the likelihood of hairstyles being ruined by precipitation decreasing- its time to think about fun haircuts and hairstyles that are simple but also,  on trend.
 Longer Hair 
Above are a set of medium to long length haircuts and hairstyles from some of the runways-gone are the heavily layered hairstyles and razored textures and gaining popularity are the "casually done" looks. The basic haircut to most of these styles is hair length no more than the middle or top of the shoulder blades with soft, blended texture on the ends to emphasize movement. Framing the face by the cheekbones is out and the longer contouring of the hair by the collarbone is in. These hairstyles mix and match 4 types of styles: 1) wet, slick look 2) controlled volume 3) soft waves and 4) messy braids. Middle and deep parts are still heavily used with a little root lift to remove flatness. Looking to recreate these style?
Recommended Tools: A large wave hot iron, a flat iron, a fine toothed comb, a wide toothed comb, and bobby pins.
Recommended Products: Kevin Murphy Young.Again with immortelle oil for shine and moisture. Kevin Murphy Doo.Over to help emphasize messy braids in finer hair with backcombing. MoroccanOil Strong Hold Hairspray for style hold.
Medium Length
Bobs and "lobs" are also very chic and are quicker and easier to style during the hotter months. Again, heavily layered shapes are out and blended, shattered texture on the ends of the general shapes is showing up on students, hipsters and mature professionals alike. Some chose to leave the front long and some opt for a rounded, Brigitte Bardot style fringe that creates blended wisps by the face.
Recommended Tools:  A tapered, clipless curling iron and a wide toothed comb.
Recommended Products:  Kevin Murphy Body Builder and/or MoroccanOil Beach Wave Mousse.
For natural, textured hair allowing your wave and curl to be emphasized with height a high ponytail can be made into a fun, casual updo in seconds. Gone are the days of stick straight hair with a flatiron! Show off your true self by emphasizing how your hair WANTS to be.
Recommended Tools: Wide toothed comb, bobby pins, boar bristle brush and a large, fabric covered and strong elastic.
Recommended Products: MoroccanOil Original Treatment, Kevin Murphy Killer Curls, and Kevin Murphy Session Spray.
Short Hair- Feminine
This year, many female identifying individuals are daring to go short! Both versions emphasize fullness and movement and emphasize bone structure and elongate and enhance the perception of the neck and décolleté. It's not just flat short Mia Farrow pixie cuts anymore!
Recommended Tools: Blow dryer and diffuser.
Recommended Products: Kevin Murphy Hair Resort and MoroccanOil Root Boost.
Short Hair – Masculine
For male identifying peeps, the spring/summer looks are trending towards more classic shapes and styling.  Deep side parts and combed in looks are defining everyday and formal looks for the gentlemen.
Recommended Tools: Fine toothed comb.
Recommended Products: Kevin Murphy Super.Goo (strong hold) or Free.Hold (mild, grooming creme.)
For a more modern look, quiffs are being paired with tapered layers on the side or an extreme bald fade with clippers.
Recommended Tools: Fine Toothed Comb.
Recommended Products: Kevin Murphy Night.Rider (matte wax texturizer- strong hold) or Reuzel Red pomade (high sheen, heavy hold).
Looking to freshen up and revamp your look for the new season?
Book a haircut appointment with one of our fun, exciting professionals by selecting one from their profile and booking with them online 24-48 hrs in advance!
Go to Emersonsalon.com and Select the "Stylists" circle.
HURRY before all the good spots are taken because right now EVERYONE is looking to get their hair done!
Friday, October 28th, 2016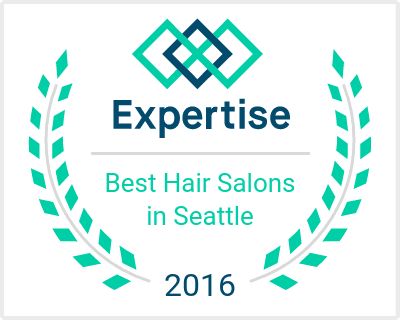 Emerson Salon, a Community of Independent Hair Designers, just received an important distinction of being named by Expertise as ONE OF THE TOP 20 SALONS in SEATTLE !!!
Their selection criteria uses research in the following areas:
Reputation:A history of delighted customers and outstanding service.
Credibility: Building customer confidence with licensing, accreditations, and awards.
Experience: Masters of their craft, based on years of practical experience and education.
Professionalism: Providing service with honesty, reliability, and respect.Providing service with
honesty, reliability, and respect.
Availability: Consistently approachable and responsive, so customers never feel ignored.
At Emerson Salon, we pride ourselves on providing high quality services from trained professionals who are passionate about running their own careers and clientele independently. To receive this honor puts attention to our daily efforts towards making  YOU feel confident with your hair…and therefore, yourself!
Book online TODAY with one of our Stylists or Barbers by choosing your preferred professional's profile, and booking ONLINE through www.emersonsalon.com
SEE YOU AT EMERSON SALON!
Wednesday, March 2nd, 2016
When You Walk Down E. Pike St…You Might Find Us….
"That Purple Place on Capitol Hill"
Book at www.emersonsalon.com
Video by Larsen the Barber!
Tuesday, November 17th, 2015
Emerson Salon is growing, evolving and changing constantly- just like hair!
From a new chandelier to decor shifts  and now-
We have changes as to which stylists decide to lease and conduct their businesses inside of Emerson.
We aim to empower independent hair designers at Emerson Salon and are so excited to round out our team with these exceptional craftsmen!
Find out more about our stylists through www.emersonsalon.com
Wednesday, August 26th, 2015
Dry shampoo has become extremely popular in the last few years for people with all hair types. From teenagers to professionals to artists- everyone loves using dry shampoo! When we were in beauty school, our teachers used to instruct us to use drugstore dry shampoo when an elderly client was in the hospital and couldn't shampoo their hair.  Times have changed and there are many more quality dry shampoos to choose from.
Now we use dry shampoo to assist in lengthening the time between shampoos. People apply it to the internal sections of the hairstyle in order to avoid it being seen along the hairline or root areas.
Also, in order to preserve any color (whether semi, demi or permanent) you want to shampoo as little as possible. Each time you shampoo, you lift up the hair cuticle. The hair cuticle is the layer of hinges that protect the inner structure of the hair, the cortex (see image above.) Your hair color lives in the cortex and the more exposed the cortex is the more it will fade.
To cleanse the hair, shampoo emulsifies the product and dirt out but it also oxidizes your beautiful haircolor  and it slowly goes down the drain. Shampooing less frequently can be really challenging for anyone who works out at the gym on a regular basis or has fine hair that "greases" up quicker. In the summer time you are one hot day away from your 'do becoming completely altered by sweat and oil! That is why we advise clients to use dry shampoo, but we always try to educate on the best practices and why you use it.
Our scalp is part of our dermal system and the follicles release oil (known as sebum) to lubricate the hair as it grows. We also sweat from our scalp which can double or triple the oil that gets onto the hair. Sebum is our hair's best leave-in conditioner but it can cause hair to become limp or weighted down. To battle this, the dry shampoo stops the oil transfer from the scalp to the hair and elongates the time between shampoos.
We carry several different dry shampoos here at Emerson Salon. Here we detail the benefits of each:
     Alterna Caviar Dry Shampoo is a powder based shampoo. We LOVE it! Its great for ALL hair types and the powder is so fine it feels like water when you apply it. It has anti-aging caviar extract in it and is very economical. If you use it every day, it may take a couple months to get through. It is very difficult to over use since you can see the powder. We recommend putting it above the ears, under your part line and through the nape. Use your fingers to evenly disperse it once applied. It is also Talc free which means it will not build up on your scalp or cause the hair follicle to become blocked.
TIP: To create more volume, try spray a flexible hairspray on the roots from below the section once the dry shampoo is applied.
      Fresh Hair by Kevin Murphy is a spray based dry shampoo. This is great for fine to medium hair types as it is lighter than a powder based dry shampoo. They call it a "dry cleaning spray," which is a great description as it removes oils and odor without water or detergents. It smells like a light baby powder. 
The one downside of using dry shampoo is that the dirt and oil will build up at the scalp with the dry shampoo so it is important to cleanse it properly. Using a clarifier is NOT recommended as this type of shampoo has a higher ph and can strip the color you have been working so hard to protect. You can use a lower ph detox shampoo that works similarly in removing the buildup but will not suck the color out in the process. Removing this scalp buildup is very important as keeping your hair follicle unblocked is crucial to hair health and growth
 Maxi Wash by Kevin Murphy is a color safe detox shampoo that uses alpha hydroxy to exfoliate out oil, product and dirt buildup.  It will not lift up the cuticle layer like a clarifying shampoo but will gently cleanse the scalp and hair. It is recommended to use this shampoo repeatedly until you get a nice thick, meringue type lather. If it doesn't lather- rinse and repeat. You can follow this with your regular paraben and sulfate free conditioner- we recommend Kevin Murhpy's Hydrate.Me Rinse with moisturizing kakadu plum. 
Thursday, August 13th, 2015
New hair looks get new names. Some ladies in our chair are still learning what balayage and ombre is-
balayage: hand painted highlights  ombre: lighter highlights concentrated on the ends
The newest terms that baffles potential clients minds are the terms "bronde" or "ecaille."
"BRONDE"
BRONDE means any soft balayage technique that blends a medium or dark brown base
into a medium/dark gold or warm/medium beige highlight.
The 'Br' is the brown and the 'onde' is the blonde. The contrast is moderate and tends to grow out very naturally for either black, dark brown or medium brown naturally colored hair. In the salon, we compare these colors to shades of coffee with its balanced, rich tones.
 This is a great technique to drop down a dramatic blond balayage or ombre to help add shine+ reflection to hair that is trashed  from too much bleaching or sun fadeage. The color will fill in the negative spaces and plump up the structure to help the hair to style and look better.
This look tends to slowly graduate the dark color from roots to the mid shaft and ends – creating a subtle ombre or "sombre" effect. The difference in contrast between the darker shade should ounly be 1-3 levels only.
"ECAILLE"
ECAILLE or "tortoise shell" combines a medium or dark brown base with soft  strips of medium to light gold balayage highlights in the front and mid-shaft+ends.
The effect is different than bronde. The highlights can be closer to the scalp  and give an overall, defined, dimensional look. This look is great for naturally colored medium brown or ash colored hair. The base color can be bumped up a level and the highlights painted in after. The grow out is a little less soft than bronde and will require the highlights to be maintained every 10 weeks instead of the normal soft balayage growout of 12-14 weeks. The effect will only subtly ombre on the last couple inches of the hair.
Want to try one of these looks on after  a summer of faded haircolor?
Book with one of our independent stylists through their profile at www.emersonsalon.com
"For Style That Works!"
    Daily, a hairstylist may come in to contact with between 3
and 8 clients depending on the types of services rendered,
schedule and hours worked. Multiply that times 4-5 days a week 4 weeks a month and so on-
That is a lot of people!  When you think about it-
being a hairstylist does not just require technical skill in haircutting, hair color formulation or techniques. It incorporates many facets and factors to becoming successful as a hairstylist.
The primary focus of teaching hairstylists in cosmetology school is to learn safety and sanitation and to pass a State licensing board exam. Unfortunately, it is not always the place where the fine art and science of psychology is taught. Having a working understanding of how humans behave and think is key to your stylist executing a service that makes you happy. Its always best to put a little research into your new stylist to increase the likelihood of clicking with them. You don't have to be best friends but relating well to one other is HIGHLY important.
PSYCHOLOGY: is the study of mind and behavior. It is an academic discipline and an applied science which seeks to understand individuals and groups by establishing general principles and researching specific cases. (Wikipedia)
Most stylists rely on instinct, their learned craft, their personality and the client when executing services. However, it is generally known that this takes time, experience and some trial and error to discover what is successful. That could take years. It is NOT easy. It isn't a black and white process. You cannot memorize or robotically learn the subtle nuances of  human behavior. However, with focus and dedication a stylist's unique brand of learned awareness and understanding can be cultivated.
EMPATHY: is the capacity to understand or feel what another person is experiencing from within the other person's frame of reference (Wikipedia)
The #1 skill that cannot be taught to a hair stylist is the ability to have empathy for the client and their desires and needs. The second a stylist isn't on the same page with their hair client that is when mistakes  can happen through miscommunication, frustration and misunderstanding.
If you feel like your stylist doesn't care- why give them your $?  Its the old expression,"Put yourself in their shoes." It seems easy but it's harder than it seems- especially if the other person is the yin to your yang!  How do you know if a stylist cares about you and what you say? Simple: When you feel like they listened to you but also processed and heard what you said and WHY. This can be done by reflecting or repeating what you said back to you.
EFFECTIVE LISTENING includes maintaining eye contact, being relaxed and attentive, keeping an open mind, try to picture what the speaker is saying, not interrupting or imposing a "fix," asking clarifying questions. (forbes.com)
The next time you try out a new stylist- feel free to incorporate some of these items like a checklist.
Being in someone's hair chair is a 2 way street and if you feel like your relationship is one-sided, the stylist isn't executing what you ask for, isn't listening and seems to be bored or annoyed with taking care of clients- it may be time to move on to someone who better suits your needs and personality.
Want to experiment with a new hair professional in Seattle who fits with your special needs? 
Peruse our stylist profiles and book with one automatically at Emersonsalon.com!
All of our stylists are independently run and have years of experience in the field.
Where we believe it is essential to be
"For Style That Works!"